David Overton Williams, Jr.
Date of Birth: February 20, 1925
Headed West: August 18, 2019
Highest Military Grade Held: 0-7 – Brigadier General
Hometown: San Antonio, TX
Brigadier General David Overton "D.O." Williams, Jr. served in the Army Air Corps in WWII with the 50th Fighter Group from 1939-1945. He was stationed in the United States; the Philippines; Okinawa Islands (Ryukyu Islands); Japan; Europe; and Africa.
From 1950-1953 D.O. was stationed in Korea flying the F-84E serving with the 111th Fighter Squadron/136th Fighter Wing during the Korean War. He remembers "They shot at me a few times, dinged the aircraft, but didn't hurt me."
He also served during the Vietnam War from 1961-1975 serving with the 27th Fighter Wing and 8th Fighter Wing. Shot down a MiG in what he calls "a pretty good dogfight. There were 8 MiG 17's and 2 MiG 21's against 8 of us, so it was a good donnybrook.
We lost a lot of people [in Vietnam]. We lost them to SAM's, triple-A, and we lost a couple to MiG's. That was in [my] fighter squadron itself, and we had 4 squadrons, with 25 planes in each squadron. We must have lost 10 or 12 on my watch."
David Overton  "D.O." Williams (BGen USAF, Ret) "Headed West" on August 18, 2019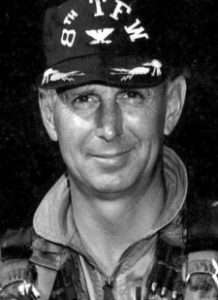 Brigadier General David O. Williams, Jr. (USAF Ret.) of Austin, Texas died on August 18, 2019, at the age of 94.
General Williams was born on January 20, 1925, in San Antonio, Texas to David Overton Williams, Sr. and Ida Emma (nee Brown). He was reared in Eagle Pass, Texas, graduating from high school in 1942. He attended Texas A&M College until he volunteered for the US Army Air Corps Aviation Cadet pilot training program in World War II.
He graduated from pilot training in 1944 and subsequently became a P-47 Thunderbolt fighter pilot. Following World War II, he applied for and received a commission as a Regular Officer in the United States Air Force, thereafter serving as a jet fighter pilot, operations officer, staff operations officer, director of operations, and commander of several fighter units in the US, Europe, and Asia.
He flew 100 combat missions as a jet fighter pilot in the Korean War and 102 combat missions in the Vietnam War. His combat decorations include the Silver Star for valor, four Legions of Merit, two Distinguished Flying Crosses, the Bronze Star, and ten Air Medals. General Williams was nominated by the President and confirmed by the Senate to the rank of Brigadier General in the United States Air Force in 1973. He subsequently performed duty as Deputy Director of Operations in Headquarters USAF, and on the staff of the Joint Chiefs of Staff in Washington, D.C. His last duty station was in Taiwan in the Republic of China as Chief of Staff of the Taiwan Defense Command, from which he retired in 1976 following 33 years of active service.
General Williams graduated from Chaminade College in Honolulu with a degree in Political Science, and also graduated from the University of Texas at Austin with a degree in Civil Engineering. He was a graduate of the Air Force Command and Staff College and Air War College. Following retirement from the Air Force, General Williams became a Registered Professional Engineer and practiced as a Civil Engineer with the consulting engineering firm of Cunningham-Allen in Austin.
He was a member of the American Society of Civil Engineers, the National Society of Professional Engineers, the Texas Society of Professional Engineers, the University of Texas System Chancellor's Council, the Texas Exes, and the U.T. College of Engineering Foundation's Friends of Alec. He was also a very active and devoted member of the Order of Daedalians, the premier fraternity of military pilots, in which he served as Scholarship Chairman, Trustee of the Daedalian Foundation, Flight Captain, and on the Board of Directors. He was also a member of the Red River Valley Fighter Pilots Association from 1967 to his death. General Williams and his wife Janie were long-time members of Balcones Country Club in northwest Austin.
He is survived by his wife of 51 years, Jane (Janie) L. Williams, and by four daughters: Linda Merrell of Albuquerque, New Mexico; Gail Kilmer (Clay) of Albuquerque; Holly Barber (Mark) of Nantucket, Massachusetts, and Lisa Quick of Cedar Crest, New Mexico; nine grandchildren, eight great-grandchildren, and four great-great-grandchildren. He is preceded in death by his daughter, Elles Williams, brothers Bobby and Bill, and his sister, Evelyn Wallace.
Funeral services were held at Cook-Walden Chapel of the Hills Funeral Home, with interment at Fort Sam Houston National Cemetery in San Antonio.
In lieu of flowers, donations may be made to the Daedalian Foundation Matching Scholarship Program, 55 Main Circle, Bldg. 676, Randolph AFB, Texas 78148.
Source: legacymemorial.com
1943 Entered Aviation Cadets
Basic Training, Wichita Falls, TX
9/1944 Pre-flight Training, San Antonio, TX
Flight Training, Ft Worth, TX
Primary Flight Training, Greenville, TX
1944 Advanced Single-engine training, Victoria, TX (rec'd Wings)
Fighter Training, Harding Field, LA (P-40, P-47)
Fighter Training, Winfield, KS (P-47)
7/1945 50th Fighter Squadron, CO to the Pacific when the Atom Bomb was dropped (P-47)
12/1945 released from active military duty, went back to Texas A&M
9/1946 Returned to active duty, Engineering School with US Army, Ft. Belvoir, VA
Topographical Studies with US Army in the Philippines
US Army Air Corps became US Air Force, entered service
51st Fighter Wing, Okinawa
1948 Instructor Pilot, Scott AFB, IL
111st Fighter Squadron/136th Fighter Wing, Langley AFB, VA (P-51, F-84E)
1/1951-6/1951 111th Fighter Squadron/136th Fighter Wing, Itazuke AB, Japan (F-84E-23 missions)
111st Fighter Squadron/136th Fighter Wing, Tegu, Korea (67 missions)
3/1952 12th Fighter Wing, Bergstrom AFB, TX (F-84, F-84F)
1955-1958 561st Fighter Squadron, Operations Officer/Squadron Commander, Bergstrom AFB, TX
1958 27th Fighter Wing, Bergstrom AFB, TX (F-101 Voodoo)
6/1959 Command and Staff School, Maxwell AFB
1959 Ramstein AB, Germany (F-100)
Headquarters USAF- Europe, Operations Staff Officer, TAC EVAL, Wiesbaden, Germany (F-100)
1962-1964 Cannon AFB, NM (F-100)
1964/1965 Da Nang AB, Vietnam (F-100)
1965-6/1966 Air War College, Maxwell AFB (Distinguished Graduate)
6/1965-11/1967 4453d Combat Crew Training Wing, Commander, Davis Monthan AFB, AZ (F-4)
11/1967-5/1968 8th Fighter Wing, deputy commander/deputy commander of operations, Ubon AFB, Thailand (F-4)
5/1968-9/1968 Headquarters 7th AF, Chief of the Attack Fighter Division under the deputy chief of staff, operations, Saigon
9/968-3/1971 Headquarters U.S. Pacific Command, chief of air operations under the assistant chief of staff, operations, Camp H.M. Smith, HI
4/1971-4/1973 HQ USAF, Deputy director for operational test and evaluation, Deputy Chief of Staff for Plans and Operations
4/1973-6/1974 Pentagon, Organization of the Joint Chiefs of Staff as deputy director for operations, National Military Command Center, Washington, DC
6/1974-7/1976 Chief of staff, U.S. Taiwan Defense Command,  Republic of China, Taipei
7/1/1976 Retired USAF

Legion of Merit with 3 Oak Leaf Clusters

Distinguished Flying Cross (2)

Air Medal with 9 Oak Leaf Clusters

Air Force Commendation Medal
P-40
P-47
P-51
F-84 E/F
F-101
F-100
F-4
Rating: Command pilot
Flight Hours: 5,300 (most in jet fighter aircraft)
Military & Civilian Education
Military Education:
1959 Command and Staff School, Maxwell AFB
1965-6/1966 Air War College, Maxwell AFB (Distinguished Graduate)
Civilian Education:
1942 Eagle Pass High School, TX
Agricultural and Mechanical College of Texas (now Texas A&M University)
1970 BS/ Military Science, Chaminade College of Honolulu, HI
Civil Engineering, The University of Texas at Austin