02 Aug

Bob Hoover almost "Headed West" On The Eve of EAA's AirVenture at Oshkosh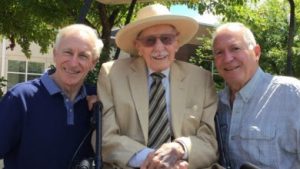 OSHKOSH, Wisconsin-Legendary airshow performer R.A. Bob Hoover almost "Went West" on the eve of this year's EAA AirVenture Oshkosh due to life-threatening anemia.
It could have deprived his body of oxygen as effectively as carbon monoxide poisoning. Fortunately, Dr. Robert Liddell was visiting the 94-year-old Hoover at his home in Palos Verdes, California. Liddell, who was director of aviation medicine for Australia's Civil Aviation Safety Authority (nee Civil Aviation Authority) from 1988 to 1997, noted Hoover's shortness of breath and other signs of anemia. He immediately called a local hospital to order blood tests.
But the hospital would not take orders from a non-U.S. licensed physician. That's when Michael Herman-Hoover's longtime friend, personal Citation CJ3 air chauffeur and CEO of North American Communications-came to the rescue. Herman called Dr. Ned Chambers in San Diego and asked him to confer with Liddell.
Chambers immediately ordered the required blood tests at a local hospital. The results were clear and convincing. Hoover's hemoglobin levels had indeed dropped precipitously to 7.7 gm/dl from the normal 15 gm/ dl. Chambers then ordered a large transfusion of blood, packed with extra hemoglobin, to cure the anemia. Quickly, the extra-strength transfusion produced the desired results.Hoover's anemia vanished and he felt re-energized, ready to fly with Herman and Liddell to meet and greet all his friends and admirers at AirVenture 2016 here.
"Everyone has come close to going over the cliff at one time or another," says Hoover, who narrowly escaped death more than a dozen times during his fighter pilot, test pilot and airshow careers. "This is the second time that Dr. Rob Liddell came to my rescue. The first was in 1994, when FAA pulled my medical certificate. Dr. Liddell and I have been lifelong friends ever since."
In 1994, two FAA inspectors watched Hoover perform at airshows and declared his cognitive skills had deteriorated, rendering him unfit to fly. FAA's Federal Air Surgeon subsequently revoked Hoover's medical certificate.
Hoover no longer was able to fly in airshow events, most of which were booked years in advance. Some of those airshows were in Australia. At the urging of Australian airshow promotors, Liddell intervened. He called Dr. Lawrence Marinelli, an FAA aviation medical examiner based in Los Angeleswho was also licensed by Australia's CAA to perform medical exams on its behalf. Marinelli subjectedHoover to several cognitive tests and a stringent aviation medical exam that he passed with flying colors.
Hoover then traveled to Australia and went through a battery of written, oral and flight tests that resulted in his earning Australian commercial multi-engine land pilot ratings. He was then able to perform in several Australian airshows and air races. With Hoover's unqualified successes down under, the FAA eventually reversed itself and restored Hoover's U.S. pilot medical certificate, much to the delight of his U.S. supporters.
Herman candidly says that Hoover is stubborn, a pilot who remains wary of doctors. "He doesn't even have his own doctor. He needs a good personal physician who will be an advocate for him." Herman believes that only by having such a strong professional relationship with a personal physician can a pilot hope to get treatment when it is urgently needed, considering the current state of medical care in the U.S.
Https://aviationweek.com/oshkosh-2016/airshow-legend-survives-health-scare