From an article on the IAC.org website: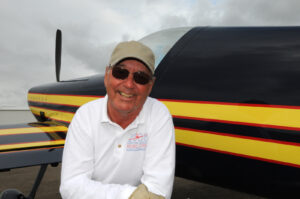 "Lew Shattuck has been selected by the IAC Hall of Fame committee and the Board of Directors to be inducted into the International Aerobatic Hall of Fame for 2023. The official ceremonies will take place in Oshkosh, Wisconsin on November 9, 2023.
Before getting started in Aerobatics, Lew Shattuck enlisted in the U.S. Air Force in 1952. While serving, Shattuck gained experience flying many different military fighter aircraft. In the summer of 1966, Shattuck was captured after his F-105 was shot down in North Vietnam and was kept as a prisoner for more than six years before being released. He retired from the Air Force in 1976 as a full Colonel.
Despite an eye injury suffered during his time in captivity, Shattuck wanted to continue flying. He purchased a Pitts Special and began practicing aerobatics. Shattuck won the 1978 IAC National Championship in the Unlimited category. He continued to fly in competitions until 2018 at the age of 85. Shattuck also served as a mentor for pilots and judges for many years." (1)
For more about Lew, see his bio page at https://supersabresociety.com/biography/shattuck-lewis/
Source for story and photos (1): https://www.iac.org/news/2023-08-21-lew-shattuck-to-be-inducted-into-hall-of-fame