July 10, 2022 – LtCol Robert "Hoppy" Hopkins wrote to tell us of a new exhibit at the Smithsonian's Air and Space Museum in DC.
"This just in from the Smithsonian. If you click on the link "read more" under the heading "Speed and the Cold War" with the F-14 picture the article describes different aircraft and the speeds they attained. One of them is our own F-100 Memorial…56-3440 at the Smithsonian's Udvar-Hazy Air and Space Museum.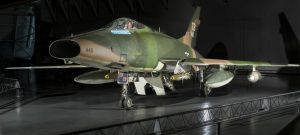 There she sits in her Vietnam paint job loaded with 500 lb. MK-82 Hi-drags and napalm…ready for the next close air support mission. After about 35 years in storage, the Super Sabre Society was able to convince the Smithsonian to put her on display along with other aircraft in the museum's Vietnam display section. "440" was disassembled and trucked from Maryland, reassembled, cleaned, loaded with ordnance and put on display. All of this was done in close coordination with the Super Sabre Society that provided guidance throughout the entire project.
"440" was flown by the 90 TFS whose "CB" tail markings and "Dice" on the nose gear door she proudly displays. In August 2014 the Society hosted a "440" F-100 formal dedication ceremony and dinner on the floor of the museum. Among other dignitaries, our own General Ron Fogleman was the guest speaker with over 300 guests in attendance. Anyone who was there will tell you it was a "night to remember".