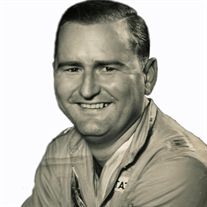 Retired United States Air Force Colonel Eugene "Gene" Tatro, 79, Green Bay, died peacefully in his sleep at home on Thursday, November 27, 2014. Born in Antigo, December 1, 1934, he was the son of the late Joseph and Viola (Theisen) Tatro. Gene earned multiple medals of distinction during his military career.
He married the former Carole Price on June 20, 1964, at Lakenheath Air Force Base in Suffolk, England. He served his country faithfully as a fighter pilot, air operations officer, and director of operations until his retirement in 1981. His career included service in Vietnam. Following retirement, Gene worked in the residential real estate business in the Green Bay area for many years. He enjoyed recreational boating on various Wisconsin waters with his family, grilling out on weekends, playing racquetball, traveling and enjoying cruises with Carole and watching Packers games.
He was a longtime member and volunteer at Saints Peter and Paul Catholic Church in Green Bay.Gene is survived by his wife, Carole, of Green Bay; 4 children, Tina (Peter) Barth of Sheboygan and their children, Aaron and Nicole; Teresa (Mark) Nussbaum of Green Bay and their children, Drew and Luke; Tonya (Scott) Stettin of Villa Park, IL, and Tyson (Shelly) Tatro of Green Bay and their children, Jaden and Jaxon; 6 siblings, Lucille (Richard) Utneheimer of Lance, MI, Jim (Midge) Tatro of Antigo, Bill (Diane) Tatro of Stevens Point, Kathy (Tony) Tillman of Three Lakes, Sue (Laddie) Schmutzer of Colombus, and Mike (Pat) Tatro of Wausau; further survived by many relatives and friends.
He was preceded in death by his parents; 2 siblings, Joseph Tatro and Mary (Jim) Herbold.
Visitation at Malcore (East) Funeral Home, 701 N. Baird Street, is  Saturday (12/6) from 9:00 A.M. until the time of the Funeral Mass. Funeral 11:00 A.M. Saturday at Saints Peter and Paul Catholic Church with the Rev. Anthony Cirignani, OFM officiating. Burial will take place at Queen of Peace Catholic Cemetery in Antigo at 1:30 P.M. on Monday.
Visit www.malcorefuneralhome.com to send a condolence to the family.The family would like to extend a special thanks to the staff of Unity Hospice for all of their compassionate care.