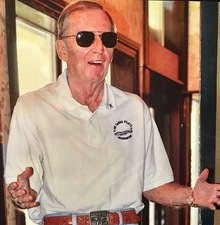 SSS member Bobby E. Walls, Major General, USAF (Ret) Headed West in Drumright, OK Dec. 14, 2016. He was born in Ralston, OK on Aug. 10, 1930, graduated from OSU in 1952 and joined the United States Air Force, where he served a long distinguished career, retiring in 1990.
Bobby E. Walls was born in Ralston, OK on August 10, 1930 to the late Earl Lee Walls & Lela Mae (Mitchell) Walls. He passed from this life at his home in Drumright on December 14, 2016 at the age of 86 years. Bob grew up in Ralston where he graduated in 1948. While in school, he met JoAnn Teter & they were united in marriage on May 10, 1948. Bob continued his education at Oklahoma State University, was a member of Phi Beta Kappa, and graduated in 1952.
He then entered the United States Air Force, training as a fighter pilot. Since joining the Air Force, he served in numerous capacities, received many citations & awards, and retired in 1990 as a Major General. While Bob was concentrating on his military career & duties, the family moved from Tulsa to Drumright in 1969.
Bob purchased the Chevrolet – Oldsmobile dealership, and along with their son Brian, operated it as the Bob Walls Motor Company until their retirement. Bob & JoAnn were very active in many local civic organizations & he was a longtime member of the Drumright Masonic Lodge. His greatest joys in life were flying fighter jets and especially spending time with his grandchildren & family. He leaves behind a legacy of duty, service & commitment. He will be missed by all who knew him. In addition to his parents, he was preceded in death by a SON: Brian Walls in 2003; WIFE: JoAnn Walls in 2008; SON-IN-LAW: Fred Mattlin; & GRANDSON: Michael Mattlin.
His remaining family includes 2 DAUGHTERS: Lela Pettit & husband Dann of Moore – Bobbie Mattlin of Florida; GRANDCHILDREN: Rod & Jamie Pettit – Sherry & Mike Swanson – Cindy & Mark Sharkey – Misty Walls & Brett Rolland – Wendy & Lance Dildine – Joey Wise – Bethany Mills – Mason Mattlin; GREAT Grandchildren: Michelle – Paige – Sam – Addi – Baylor – Tanner – Kyle – & Scott; 1 BROTHER: Bill Walls & wife Joyce of Hominy; NIECE: Shawna & Doyle Edwards; NEPHEW: Martin & Linda Walls; his Oklahoma Air National Guard family; & several other relatives & friends.
Burial with full military honors was in Euchee Valley Memorial Park, Cushing, OK.