Col Julian D. "Buzz" Sawyer, 83 Headed West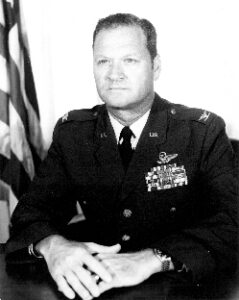 Buzz was the driving force for decades of the airport in Demopolis, Sawyer was honored by induction into the Alabama Aviation Hall of Fame and the Alabama Military Hall of Fame. And, in April 2011, the Demopolis City Council voted to rename the Demopolis Airport to the Julian D. "Buzz" Sawyer Airport.
He is survived by his wife, Kaye Miles Sawyer; daughters, Pamela Marker of North Myrtle Beach, S.C. and Skylar M. Sawyer of Fairhope; brother, Donald Sawyer of The Philippines; four grandchildren and two great-grandchildren.
A distinguished veteran, Sawyer grew up in Mobile and started his Air Force career in 1948. He served in the United States, Europe, and Vietnam on assignments after flight training.
He was awarded the Soldier's Medal after helping rescue an injured crewman whose F100F aircraft crashed and burst into flames on Sept. 24, 1959, at Myrtle Beach Air Force Base, S.C.
As the 615th TFS Commander in the 35th TFW at Phan Rang AB, Vietnam, and was awarded the Silver Star, 5 Distinguished Flying Crosses, and 23 Air Medals!
"Buzz wasn't just about military flying — he truly felt the call to continue to serve his community and As the airport manager, Buzz single-handedly built the Demopolis Municipal Airport from an underfunded, substandard airport into the vital economic portal it is today," "His efforts developed the Demopolis airport into a valuable economic resource for the City of Demopolis, Alabama. This earned him the distinction of having the airport renamed in his honor … In addition, Buzz's long-term accomplishments in support of aviation in Alabama were recognized by his induction into the Alabama Aviation Hall of Fame in 2011.