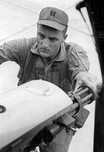 Charles Adams Boatwright was born on Sept. 20, 1935, in Nashville, GA, to the late Troy Veryl and Lucille Adams Boatwright. Working at his father's business as a boy, his love of aviation began by watching the planes from Moody Air Force Base flying overhead, causing him to say: "That's what I'm going to do someday." He ran away from home and began flight training at the Air Force Cadet program in Kinston, N.C.
Charles flew F-84 Thunderstreaks and F-100 Super Sabers with Chuck Yeager during the Cold War, then later the F-5 Freedom Fighter as a test pilot. Assigned to the 4th Air Commando Squadron in Vietnam, he flew an AC-47 gunship – "Spooky" – and was awarded the Distinguished Flying Cross for his outstanding close air support to Special Forces units.
Charles Boatwright was awarded the Purple Heart after he was shot down immediately after taking off from Bien Hoa in March 1967. Although he was severely injured during the crash-landing, his aircrew was unharmed. His story was later featured on the front cover story of Aviation History magazine as the only AC47 Spooky pilot to be shot down over Vietnam and survive.
After almost 30 years on Active Duty, Charles Boatwright served as a regional dispatcher for Roadway Trucking Company, but nothing ever compared to the honor of serving his country. By the time he passed away, he had lived in France, Germany, Vietnam, Thailand, Virginia, North Carolina, Georgia, Florida, Mississippi, Nebraska, New Mexico, and California. He moved to New Bern, N.C., in 2015 to be near his daughter.
His wife of 56 years, Carmen Etteinne Davis Boatwright, died in 2013. He is survived by his only child, Ettienne "ET" Boatwright Mitchell (Champ); his grandson, Morgan Benjamin Andreiev; his brother John Boatwright, and his nephew LCDR Robert Boatwright, USN.
Charles Boatwright loved airplanes, trucks, and automobiles, gun collecting, country music and playing cards with pretty ladies. He was known to frequent parties here and there, although he had been sober 35 years when he died.
He had a merry heart. Two of his happiest days were when his daughter, Etteinne, was commissioned as a Naval Officer in 1981, and when his beloved only grandson, Morgan, was born in 1992. Morgan learned to read on his grandfather's aviation magazines, and his Pops taught him to drive and shoot long before he should have. Charles cherished his friendships, and no one ever forgot him.
Charles Boatwright passed away in New Bern on Sunday, January 10, 2021, with his daughter at his side. As his grandson, Morgan observed, there wasn't a cloud in the sky when he died. It was a perfect day for his beloved grandfather to set his last altitude record.
A celebration of Charles' life was held on  April 17, 2021, at Christ Episcopal Church. Burial, with US Air Force Honors, followed at New Bern Memorial Cemetery.
Donations in Charles' honor can be made to the Air Force Aid Society, www.afas.org/, or 4 FSS / FSFR 1200 Wright Brothers Ave #3602 Seymour Johnson AFB, NC 27531.