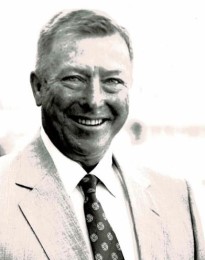 Chester A. Kuras, 92, lifelong resident of West Suffield, and beloved husband of Sally (Nelson) Kuras, passed on September 8, 2021.
Born in Springfield, on January 9, 1929, son of the late Anthony and Mary (Osowiecki) Kuras. Chet graduated from Suffield High School Class of 1946, Suffield Academy PG class of 1947. He later earned his Bachelor's degree from UConn and his Master's degree from University of Hartford.
He attended the Aviation Cadets (Air Force Academy) in 1951 earning his fighter pilot license in 1955. He honorably served in the U.S. Air Force and U.S. National Guard for over 20 years retiring as Lieutenant Colonel. Chester's grandparents started the beautiful mountainside 'Kuras Farms' in 1905 raising dairy cattle, tobacco and blueberries.
As the son of a farm owner and state representative, Chet also pursued farming and politics. Committed to careful planning and success of his town, he volunteered and was elected to several leadership positions including, Zoning and Planning, Board of Tax Review, and the role of First Selectman of Suffield. He was an active member of the Friendship Force started by Jimmy Carter in 1978, and has traveled the globe with his wife by his side. Chet was dedicated to the local Boy Scouts hosting an annual fishing derby and donating pumpkins for the Scouts' annual sale, he was active in the 4H and Eastern States Expositions.
He was a lifelong communicant of St. Joseph Church, Suffield and Mary Gate of Heaven, Windsor Locks.
Chet is survived by his beloved wife Sarah 'Sally' (Nelson) of 62 years; three children and their spouses Joseph Kuras and his wife Christine of MA, Tamara Ramenda and her husband James of CT, and Audrey Cushing and her husband Dwayne of West Suffield; four grandchildren Benjamin, Daniel, Rachel and Nicole; sister Mary Ann Klobukowski and her husband Chester of PA; and brothers-in-law Herbert Nelson and John Chmura of MA; and many cousins and extended family.
Funeral Services were held on September 11, 2021 with burial with full military honors at St. Joseph Cemetery, Hill St. Suffield,
Memorial donations may be made to Boy Scouts of America: (ctscouting.org); OR Suffield Volunteer Ambulance Association: PO Box 643, Suffield, CT 06078.