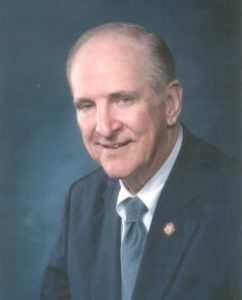 Samuel Robert Johnson (Colonel USAF, Ret) "Headed West" May 27, 2020
Sam Johnson is a native Texan and beloved public servant frequently hailed for his patriotism, commitment to our republic and strong conservative values, and efforts on behalf of the North Texas constituents he served.
Sam is also a decorated war hero who ranked among the few Members of Congress to fight in combat.
During his 29-year career in the U.S. Air Force, Representative Johnson served as the director of the Air Force Fighter Weapons School ("Top Gun") and was one of two authors of the air tactics manual revolutionizing military air dominance by incorporating three-dimensional flight – a manual that is still used today. One of his classmates in flight school was future astronaut Buzz Aldrin.
Sam flew combat missions in both the Korean and Vietnam Wars. During the Korean War, Sam flew 62 combat missions in his F-86, stationed just 25 miles from the front lines. In his plane – Shirley's Texas Tornado named after his wife – he scored one MiG fighter kill, one probable, and one damaged.
He served as director of the Air Force Fighter Weapons School and flew solo and slot positions in the F-100 Super Sabre with the Air Force Thunderbirds precision flying demonstration team.
Johnson was a Prisoner of War and subjected to brutal treatment after being shot down while flying his Phantom II over North Vietnam in 1966. Sam returned home to Texas in February 1973 as part of "Operation Homecoming."
He was decorated with the following military awards: Silver Star with 1 oak leaf cluster, Legion of Merit with 2 oak leaf clusters, Distinguished Flying Cross, Bronze Star with Valor Device, Meritorious Service Medal, Air Medal with 3 oak leaf clusters, Air Force Commendation Medal with 1 oak leaf cluster, Purple Heart with 1 oak leaf cluster, Small Arms Expert Marksmanship Ribbon, Combat Readiness Medal with 2 oak leaf clusters, Korea Service Medal, Air Force Longevity Service Ribbon with 5 oak leaf clusters, National Defense Service Medal with 1 oak leaf cluster, Vietnam Service Medal with 8 oak leaf clusters, Korean Presidential Unit Citation Medal, United Nations Service Medal, Vietnam Gallantry Cross with Device, Vietnam (RVN) Campaign Medal, Air Force Outstanding Unit Award with 4 oak leaf clusters, and the Air Force Outstanding Unit Award with Valor Device.
Following his distinguished military career, Sam established a home-building business in North Dallas from scratch and served in the Texas State legislature before running for the United States House of Representatives in 1991 during a special election.
Sam Johnson received numerous awards and recognitions during his illustrious career, including being recognized in 2009 as the "most admired" Republican member of the U.S. House of Representatives. In addition, in 2009 the prestigious Congressional Medal of Honor Society bestowed Sam their highest civilian accolade, the National Patriot Award, for his tireless work on behalf of the troops, veterans, and freedom.
In 2011, Sam accepted the "Freedom of Flight" award at the Living Legends of Aviation Awards, dubbed the Oscars of aviation, from renowned air show pilot Bob Hoover.
Also, in 2011, the renowned bipartisan publication, National Journal, named Sam the most conservative Member of Congress based solely on his voting record.
In 2016, the Bipartisan Policy Center awarded U.S. Congressman Sam Johnson (TX-03) with its first Congressional Patriot Award.  The biennial award recognizes "two Members of Congress – one Democrat and one Republican – who have performed patriotic deeds worthy of remembrance."  Johnson shared the award stage with Congressman John Lewis (D-GA), the iconic civil rights activist and first Democrat recipient of the award.
In addition to representing the 3rd District, Sam served as a Regent for the world-famous Smithsonian Institution, where he represented the Board of Regents on the Advisory Board of the National Air and Space Museum. His tin cup, smuggled out of Vietnam from his time in captivity, is on display in the Smithsonian Institute American History Museum.
In 2017 the Social Security conference room in the Rayburn Building of the Capitol complex was named the Sam Johnson Room and his portrait hangs there today.  Texas Tech University announced the naming of the largest archival of Vietnam records the Sam Johnson Vietnam Archive.
In 2018 Plano, Texas named the Sam Johnson Recreation Center, while Prosper Independent School District announced a new elementary school to be called the Sam Johnson Elementary located in Celina, Texas.
Sam Johnson was married 65 years to the love of his life, the late Shirley L. Melton of Dallas who passed away December 3, 2015.  They have three children, ten grandchildren, and five great-grandchildren.
For a great article on Sam Johnson go to https://www.airforcemag.com/sam-johnson-1930-2020/