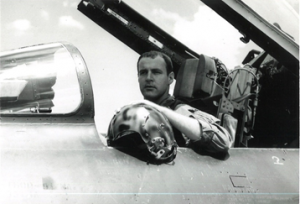 David B. Samuel (Col USAF, Ret) "Headed West' on September 24, 2020
Col (Ret) David B. Samuel passed away on 24 September 2020.  David was born into the Army Air Corps in San Antonio, TX in 1942 and grew up in the Air Force as he followed his parents, Major General and Mrs. John Samuel through multiple assignments. Continuing the family military tradition, David chose to attend the Air Force Academy, graduating in 1964.
While at USAFA he was Editor in Chief of the Dodo, the weekly cadet publication that was eagerly anticipated each Thursday and that did an excellent job of capturing the humor, mood, and preferences of the Cadet Wing.  Sam attended USAF pilot training at Vance AFB, Enid OK, and continued at Vance as a T-37 Instructor Pilot from 1965 through 1968.
In 1965 he met Karen, an American Airlines stewardess while attending a party in Dallas.  They were married in December of that year.  In 1969 he was assigned to Vietnam where he flew 169 combat missions in the F-100. During his F-100 tour, he participated in the elite Misty FAC program with his Misty call sign being "Crazy Sam."  He had the distinction of being the last of the Misty FACs — #157.
On return from Vietnam David was assigned to the Office of Information at Headquarters U.S. Air Force Academy from 1971 through 1976.  He returned to fighters in 1976 with an assignment to the F-105 program at George AFB where he held jobs at squadron and wing level.  There he earned the new call sign of "Snake" after some shenanigans at the VOQ at Nellis AFB.  In 1979, also at George AFB, he transitioned into the F-4G and flew in the Wild Weasel (anti-surface to air missile) program until 1982.
At this point, his career took a turn to arguably his calling in the Air Force. He became a Professor of Aerospace Studies (PAS) at Sacramento State University from 1982-1985. He enjoyed the job so much he asked for another ROTC assignment and was assigned as the PAS and Commander of the Air Force ROTC detachment at Northern Arizona University from 1985 to1988.
In 1988 he was promoted to colonel and assigned as the Area Commandant for the Ohio Valley AFROTC.  For his final assignment, he again requested to do what he really loved in the Air Force – working with cadets – and was assigned as the Air Force ROTC Commander at the University of Colorado, Boulder.  David is the only officer to have commanded more than one senior AFROTC unit. During that decade with AFROTC David personally commissioned more new lieutenants than anyone in documented history.
He retired from the Air Force in 1993 and became a real estate broker in Boulder.  There he headed the agency's realtor training programs in addition to broker duties. He passed away on his birthday after exactly 78 years: on-time and on-target.  David is survived by his son Jeff, daughter-in-law Stephanie and grandsons Jack and Dylan Samuel.  He is preceded in death by his wife Karen (2015), son Mark (1997), and parents John and Virginia Samuel (2002/2000).
He was buried at USAFA on Thursday, 1 October 2020. According to attendees, there was a "Nice ceremony at the US Air Force Academy cemetery with the normal military escort and "Taps".  His son Mark (Lt. Col. (retired), former F-15 pilot gave an excellent, appropriate eulogy.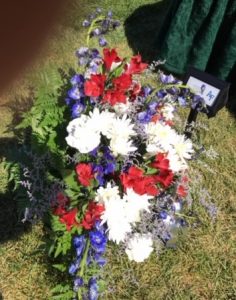 MISTY was mentioned as one of the highlights of David's career. Local MISTY's attended:  Charlie Neel, Wells Jackson, Jim Mack, PK.  Dave was in the class of 1964 from the Academy;  therefore, a nice turnout of classmates attended.
MISTY Flowers added beauty and sincere thanks for his service.  Nickels were thrown on the grass, and a beer call followed at a local brewery. "