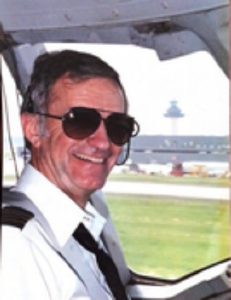 David Mosby "was born on September 3rd, 1934, in Miles City, Montana. David spent his early years growing up on a rural homestead with his older brother, Bob, whom David adored and his sister Sally who was always a great friend to him.
David graduated from high school in 1952 with a group of friends that all had the unique ability to stay in touch and remain lifelong friends. They even just recently had another reunion with the remaining class members.
After graduating high school, David went to study at Montana State University in Bozeman, Montana where he earned a bachelor's degree in mechanical engineering. While at the university David was enrolled in ROTC which earned him a spot with the United States Air Force after he completed college. It was in the Air Force that he discovered a lifelong passion for flying that he carrier throughout his life often saying that he was "lucky to land in the pilots' seat!" While in the Air Force David lived and worked in Japan flying the T-33 and the F-100, and later, when he returned to the state he taught in Phoenix, Arizona.
Upon finishing college, and prior to joining the Air Force, David started another grand adventure when he met and married Carole Folda and started a family. His children, Greg, Bryan, and Bethlyn were a huge part of his world. In his boys' younger years, he spent a few years working with the local Little League and was very involved with the Junior Football Association. David also developed a joy for downhill skiing. A sport which he helped to organize and encourage his kids to enjoy with him.
In 1966, David was hired by United Airlines and began a commercial pilot career until his retirement. He flew various airplanes from the DC-8 to the 747-400, retiring on the DC-10.
For David, retirement was just another steppingstone. With the extra free time he was able to pursue his hobbies more diligently. From piano to politics to traveling, he quickly found himself busier than ever. One of his greater projects was re-building a Cessna 195. A project that David found so rewarding he decided to build himself a second one. They were both beautifully refurbished airplanes and he used them for his favorite pastime, going to visit his friends & family wherever he would find them. He later decided to "play" some with a G-200 and G-202 experimental (carbon fiber built) planes that he would end up using in acrobatic competitions.
David found love a second time when he met, and married, Paula Branstner, a park ranger out of the Petrified Forest in Arizona. They shared many of wonderful travels and interesting times while they were married.
In his later years David found another hobby that started itching, so he picked up a camera and started on what would be many years of refining his skills at photography. One of his favorite subjects was the majestic Mount Rainier. Yet he did not limit himself to landscapes, he would seek out the perfect capture to "find the photo." He would often capture unusual wildlife and other critters on the other side of the lenses. David had a membership with Fine Art America, where he posted and sold his photography, and you find his works there still.
On October 30th, 2021, David Grant Mosby passed away, preceded by his brother Bob Mosby and his Sister Sally Fry-Mosby.
He is survived by his companion and the mother of his children Carole Mosby, Paula Branster, his sons Greg, and Bryan Mosby; his daughter Bethlyn (Chet) Sabotka; five grandchildren, Stephen Mosby, Janna Mosby, Addison Mosby, Tanya Mosby, and Jacqueline Sabotka; and three great grandchildren, Jacob, Donna and Waylon.
He will be dearly missed by his many friends and his family."
Source: https://www.tributearchive.com/obituaries/23103512/david-grant-mosby