Maj. Gen. (Ret.) David Leahy Quinlan passed away peacefully and exactly on his terms, on Wednesday, January 10th, 2018 with family and importantly, his beloved dogs by his side (and on his lap).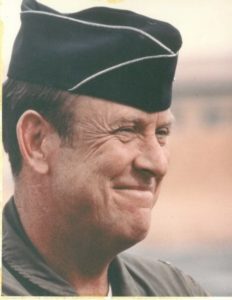 David, born on October 24, 1933 in Rio de Janeiro, to Lucile Leahy Quinlan and Harold S. Quinlan, grew up in Albuquerque from age five on, and came to represent those finest of qualities that can be found among proud Bulldogs and Lobos. Trained as an electrical engineer (taking his masters in 1961 from UNM) he worked for GE and then later at Sandia Labs, but it was his passion for flying that truly shaped his life, becoming a pilot for the Air Force and then for the NM Air National Guard. His long list of awards and honors only tells a small slice of his achievements. It wouldn't say anything about the things he valued most, his family, his dogs, his softball team, a good steak and a sharp knife, and a weekend skiing in Taos, just to name a few. General Quinlan was commissioned as a Second Lieutenant in June 1955 through the ROTC program at the University of New Mexico. He completed primary flight training at Moore AFB, TX in July 1956, Basic Flight Training at Webb AFB, TX, receiving aeronautical rating of pilot in January 1957. He completed combat crew training in the F-84F at Luke AFB, AZ, in May 1957 and F-100A at Nellis AFB, NV in July 1957. He then served on Active Duty for the Air Force at RAF Wethersfield and RAF Alconbury in England. He was then appointed to the 188th Fighter Interceptor Squadron as a Flight Commander for the NMANG in October 1958. After completing his Masters in electrical engineering in 1961, he worked for Sandia Corp and was a "Weekend Warrior" with the NMANG. In 1968, The NM Air National Guard was called to active duty in response to the Pueblo Crisis, and were deployed to Tuy Hoa AB, Republic of Vietnam. While in Vietnam, General Quinlan flew 255 combat missions, logging 442 combat flight hours in the F-100C Super Sabre. After returning from Active Duty service, he continued in his assignment as flight commander for the 188th TFS. In 1970 he left Sandia Corp to pursue his passion of flying and accepted a full-time position with the 150th Tactical Fighter Group of the NMANG and remained with them until June of 1988. During that 18 year period, he occupied the following positions: Commander for Detachment 1, Deputy Commander for Operations, and Group Commander. In June 1988, he was promoted to the rank of Brigadier General and appointed as Chief of Staff, NM Air National Guard. In Jan 1991 he became the Air National Guard assistant to the Commander in Chief of the US Air Forces in Europe and was promoted to the rank of Major General. During this assignment he represented the Air National Guard and US Air Force on official visits to nine European and NATO countries. He retired from the NMANG and US Air Force in October, 1993 as a Major General and flew a single seat F-16C fighter the day prior to his retirement. He was a Command Pilot with over 7900 flying hours of which more than 7300 were in jet fighter aircraft.
He is survived by his wife, Sandra Brown Quinlan; children, Robert Quinlan (Nikki), Teresa McDowell (Stephen Mullens), Brad McDowell (Jody); and grandchildren, Ryan Johnson, Riley Jordan (Ben), Rainey Jordan, Jordan Quinlan, Connor Quinlan, Taylor McDowell, (Logan), Morgan McDowell, Jordyn McDowell; and of course his loving dogs, Bella and Murphy. The family would like to thank Legacy Hospice, Anna Neiderman and Ray Ives for their wonderful care and compassion for David the last few weeks, as well as, Lulu Cabrales for her years of support for Sandra and David and Rainey for the wonderful care she gave her grandfather for the past six months.
Stolen Pie story at O'club (Jack McCornack)
Burial w/ Fly By by CO ANG 2 February
Eulogy by Bill White 505 281 2428