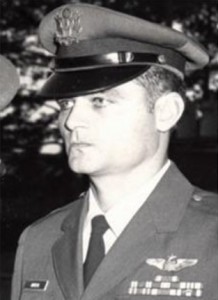 David "Ted" Andrews (LtCol USAF, Ret) "Headed West" August 12, 2020
David Wayne Andrews, known to friends as Ted, passed away on Wednesday, August 12, 2020, at Hospice and Palliative Care of the Piedmont just short of his 85th birthday.
Born August 14, 1935, in Greenwood, SC, he was the son of the late Elbert Devore and Margaret (Peggy) Scruggs Andrews of Greenwood.
Ted was a 1953 graduate of Greenwood High School and a Distinguished Military Graduate of the Citadel in 1957. He entered active duty with the United States Air Force and graduated Distinguished Officer Graduate of USAF Pilot Training School in October 1958.
Ted completed Combat Crew Training of the F-100 fighter at Luke and Nellis AFB in 1959 and then reported for combat crew duty in Toul, France with 50 TFW. In response to De Gaulle's refusal to allow nuclear weapons in France, Ted followed the wing to Hahn, Germany in 1960. He received the Award of Top Gun in 1960, remaining as pilot on combat crew status until rotating to the States in 1962 and was released from active duty.
Ted joined the SC Air National Guard with check-out duty in the F-104, flying alert duty as air interceptor and was transferred to Al ANG with interceptor duty in the F-86L. He then went on to earn a degree from Southwestern Baptist Theological Seminary in 1967 while flying with the TX ANG. In 1967, Ted flew the F-84 in a photo-reconnaissance role and was recalled to active duty in 1969, flying the F-100 with the 35th FGW at Phan Ran, Vietnam. For his service in Vietnam, he received the Air Medal and The Distinguished Flying Cross. He rotated to the States in 1970 with an assignment to support flying in the T-39 with the 9th Air Force at Shaw AFB, SC.
After release from active duty in 1976, Ted was assigned to the Air Force Reserves as a training officer in Chemical Warfare Readiness at Shaw AFB, SC. He retired from USAF in 1985 in the grade of Lt Colonel with 28 years of service and remained in SC, where he continued as an airline and corporate pilot until 2000. Ted retired and continued to fly for personal pleasure.
Ted served the Greenwood community through various organizations, including Lion's Club, the Railroad Historical Center, and the Greenwood Museum. He was inducted into the Greenwood Veterans Hall of Fame in 2013 and was a board member of the Greenwood Food Bank. At First Baptist Church Greenwood, he was a founding member of Sounds of Grace Choir, a member of the Chancel Choir, and a Deacon. Ted was a member of the Super Sabre Society since 2014.
Survivors include his wife of 30 years, Joyce Hughston of the home, a sister, Charles Mathews (Eddie); one son, Daniel Andrews (Adina Maynard); 2 additional children, Wendi Wimmer and Lee (Tammy) Wimmer; 5 grandchildren, Trey, Hughston, Ty, Thomas Heath, and Victoria; and 2 great-grandchildren, Camden and Callie Joy. Ted will also be forever remembered by his numerous nieces, nephews, extended family and dear friends.
He was preceded in death by a son, David W. Andrews, Jr, and his brother, Elbert Devore (Bud) Andrews, Jr.
Friends are invited to share a memory of Ted at blythfuneralhome.com.
The family requests that in lieu of flowers, please continue Ted's kindness, loyalty and compassion for others by making a donation to, or volunteering at, an organization that serves our fellow man.
The family will have a celebration of Ted's life at a later date.
Source: https://www.blythfuneralhome.com/obituaries/David-Wayne-Ted-Andrews?obId=17911517