Donald L. Schmenk, Maj USAF, Ret., "Headed West" on February 26, 2022.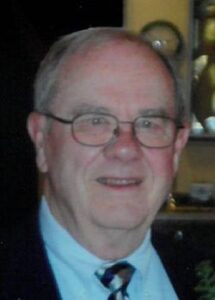 Major Donald Louis Schmenk USAF Ret, 84, of Ottawa died 8:10 a.m., Saturday, February 26, 2022, at The Meadows of Ottawa. He was born July 3, 1937, in Lima to the late Everett A. and Margaret (Brinkman) Schmenk. On June 9, 1962, he married Mary Jane Heringhaus and she passed on November 19, 2005. Then on March 29, 2008, he married Mary Ellen (Deters) Wanamaker and she survives in Ottawa.
Other survivors include three children: Kelly (Ted) Ellerbrock of Glandorf, Eric (Barb) Schmenk of Plain City and Kristen (Dave) Kreienkamp of Wayne; a grandson Drew (Jessica) Ellerbrock of Columbus; four step-children: Christine (Charlie) Carruthers and Scott Wanamaker both of Findlay, Lynn (John) Karhoff of St. Louis, MO and Ann (John) Buescher of Ottawa; seven step grandchildren: Cassie Suever, Lauren Kuhlman, Jeremy Conn, Justin Conn, Jordon Conn, Jackie Castiglioni and Taylor Meyer; three step great-grandchildren: Oliver and Gavin Suever and Evie Castiglioni; a sister, Judith McCurdy; and a brother, Tom (Linda) Schmenk.
He was also preceded in death by a brother, Robert C. (Sue) Schmenk; a sister, Rose Ann (Ken) Giesken; and a brother-in-law, Gary McCurdy.
Don graduated from SPPS, Ottawa, class of 1955. He attended the University of Detroit and OSU. He then enlisted in the USAF as an Aviation Cadet 59A in March 1957. He went through pilot training in Texas, Georgia and Mississippi graduating as a Distinguished Graduate with Class 59A in July of 1958 where he received his commission as a Second Lt and USAF Pilot Wings.
Don then served as an instructor pilot in Mississippi, Georgia and Texas from January 1966 until August 1970. He flew the F-100 in Europe and Southeast Asia completing 235 combat missions, earning the Distinguished Flying Cross (DFC) and 12 Air Medals among other awards and decorations. One aircraft that he flew 14 combat missions in (F-100F #837) is on display in the National Museum of the USAF in Dayton, OH.
Don retired in 1977 as a Command Pilot and flew as a corporate pilot until age 68. He owned and flew his 1946 Ercoupe until recently.
Don was an Eagle Scout with 2 palms, a member Quiet Birdmen (QB), Toledo Hanger and the Super Sabre Society (SSS) and an avid model builder.
Private services will be held at LOVE FUNERAL HOME, Ottawa. Burial will be in Sts. Peter and Paul Cemetery, Ottawa with military rites.
Memorial donations may be made to the National Museum of the US Air Force at 1100 Spaatz St, Dayton, OH 45431, https://www.afmuseum.com/donations or The Gardner-McMaster Parkinson Center Ruppert Health Center 3125 Transverse DriveToledo, OH 43614.
Source: https://www.legacy.com/us/obituaries/limaohio/name/donald-schmenk-obituary?id=33322007