Edward W. O'Connor (LtCol USAF, Ret) "Headed West" on June 19, 2021.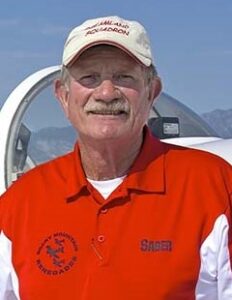 Ed, a Kersey, Colorado resident and longtime pilot died on June 19, 2021 at age 74 after a sudden illness.
He is survived by his wife, Lisa, and daughters Staci King, Ashley Gregg and Alecia Malpiede, and son Danny Malpiede.
Ed once told the Super Sabre Society that "The F-100 was my first fighter out of pilot training and I flew my last flight in the AF in September 1989 in an F-100. How's that for career progression?"
After serving in the USAF Ed went to work for Northwest where he flew for 20 more years. He retired from Northwest Airlines/Delta Airlines in October of 2009 as a Captain on the A320 Airbus.
After retirement, Ed resided in Greeley and Kersey CO and flew his RV-8 Experimental as a member of the Rocky Mountain Renegades formation airshow team.
"O'Connor, an Iowa native who'd been flying since he was 17-years-old, organized aircraft flyovers during the Greeley Stampede Independence Day Parade and was known as the flight lead in those formation flights because of his experience and knowledge of the local area.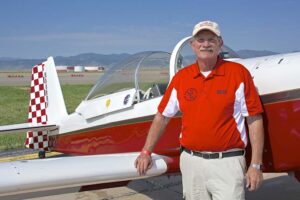 "He made formation flying really fun," said fellow pilot Ryan Scofield, who flew with O'Connor in the Rocky Mountain Formation Flyers that performed at parades, memorials and other events.  Scofield called O'Connor "a really solid and extremely professional and seasoned aviator." Scofield praised O'Connor for his willingness to assume charge of the flyovers: making arrangements with event organizers and communicating with pilots before and during the flights.
"He's been the staple in that part of the community," Scofield added. "He was very pleasant and an easy guy to be around. When they see that fly over, it'd be cool if they knew he was the guy leading it."(1)"
There will be a Life Celebration at 10:30 a.m. on July 8th at the Greeley/Weld Airport.
Source (1) Ed O'Connor, a father of local flyovers during Greeley Stampede Fourth of July parade, dies at 74 By ANNE DELANEY | adelaney@greeleytribune.com | Greeley Tribune