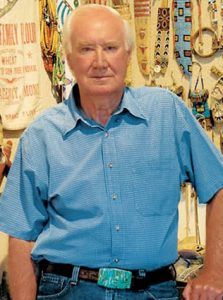 Forrest Fenn (Major, USAF Ret) "Headed West" on September 7, 2020
Forrest Fenn (90) passed away from natural causes in his home in Santa Fe, NM on September 7, 2020. Fenn was born on August 22, 1930, and raised in Temple, TX, where his father was a school principal. He spent many summers with his family in Yellowstone National Park, the genesis of his appetite for adventure.
Fenn graduated from Temple High School in 1947. He studied at Temple Junior College for a couple of years and joined the Air Force as a private on September 6, 1950.  He wanted to be a fighter pilot but wasn't sure his mediocre academics would land him in pilot training. Pilots were typically the high achievers. "I told myself that if I was going to compete in that environment, I couldn't do it intellectually, but I could out-hustle all these guys," says Fenn. He graduated from Radar Mechanic School at Keesler AFB and was sent to Donaldson AFB in Greenville, SC where he made Buck Sergeant.
Aviation Cadet Fenn then went to pilot training (Class 53G) at Bainbridge Air Base in GA, and Laredo, TX, where he flew the T-6, T-28, and T-33. After attending F-86D training school Lieutenant Fenn was assigned to the 85th FIS at Scott AFB, IL. Within a couple of years, he became aide-de-camp to Major General Frank H. Robinson who commanded the Flying Training at Randolph AFB, TX. He became a regular officer, flew the F-86D, F-86F, F-84G, F-89, T-33, F-100C, and graduated from the Army Helicopter School on the H-13G in 9 days. An aide-de-camp had that opportunity.
In 1957, Fenn was assigned to the 23rd Fighter Day Squadron (which would become the 23rd Fighter Bomber Squadron) at Bitburg, Germany, flying the F-100 C and F models.
In 1960, he returned to Luke to teach Gunnery School flying the F-100 C & F with squadrons 4511th and 4515th. On assignment for the Cuban Crisis, he began serving with the 4517th. Afterward, he was off to Reese AFB, TX to teach pilot training flying the T-38.
His tour of duty in Vietnam began in early January 1968, and he tells 2 remarkable stories. "… I was sent to Tuy Hoa, Vietnam, where I ran the command post and flew 328 combat missions in 348 days. I was shot down twice. The first time I took battle damage and "dead-sticked" an F-100D model onto a 5000-foot runway. I took the chain going the wrong way but the aircraft stopped in 340 feet. Who said you need a long runway to stop the Hun?
The second time, I was shot down by ZPUs (towed anti-aircraft gun), ejected at Tchepone, Laos, and was picked up the next day by the famous rescue Jolly Green helicopter, "The Candy Ann".
Fenn returned to Reese to teach pilot training in the T-38 but the assignment was changed to the T-37. He turned down a promotion to Lieutenant Colonel and retired."
Fenn is survived by his wife Peggy of 66 years and his daughters Kelly and Zoe.
More information will be posted as it becomes available.