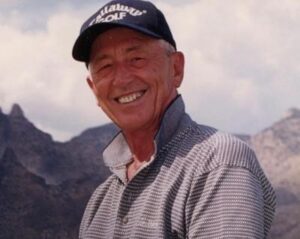 Frank was born in North Dakota and graduated from high school in Kellogg, Idaho. In his early years, he was educated in a one room schoolhouse. He has a bachelor's degree from Columbia College. He enlisted in the Air Force in 1953 and received his pilot's wings and commission through the Aviation Cadet Program in 1955. This was the year that he met and married the love of his life Kay.
Frank was a pilot. He initially flew in a tactical squadron employing the F-86F and the F-100D aircraft. He was then assigned to Strategic Air Command and commanded the B-47 and B-52 bombers, U2 reconnaissance aircraft and the EB-66 electronic warfare aircraft. His military decoration among others, include the Meritorious Service Medal, and the Air Medal. He was a command pilot with over 5,000 flying hours, 370 of which were combat.
In January 1975 he was assigned to HQ Strategic Air Command as the Deputy Chief of Security Police. And was then promoted to Chief of Security Police for the 5th Air Force and Provost Marshall in the Far East.
After his retirement in 1982, Frank owned and operated an insurance agency in Las Vegas. In 1996 Frank and Kay moved to Tucson where they had been stationed twice in his Air Force career. Frank enjoyed his retirement years with golf, travel, family and good friends.
Frank never met a stranger, was kind, humble, compassionate, loving and noble. A true patriot who loved his country.
Frank is survived by the love of his life, Kathryn R. Ott to whom he was married for 66 years. His brother, Gary Ott (Reggie) of Cincinnati, OH, and sister, Bonnie Houston (Alan Jones) of Portland, OR; children, Cathryn DeSalvo (Douglas), Cynthia Ott Binder (Tom), F. Scott Ott (Tracy), 6 grandchildren and 8 1/2 great-grandchildren.
Services were held at St. Thomas the Apostle Parish followed by a celebration of life at La Paloma Country Club. The following day he was laid to rest at Arizona Veterans' Memorial Cemetery in Marana.
The family requests in lieu of flowers, donations in Frank's name be made to the Court Appointed Special Advocates of Pima County (CASA) or to Veterans Services Organizations.
Published by Arizona Daily Star on Mar. 20, 2022.