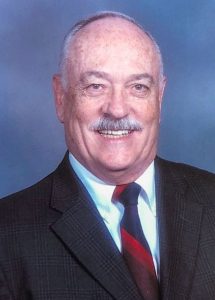 Howard "Gary" Nophsker (LtCol USAF, Ret) "Headed West" June 24, 2020.
Howard "Gary" Nophsker, age 82, passed away peacefully on Wednesday, June 24, 2020, at The Christopher House in Austin, TX after a long-time battle with metastatic prostate cancer.
He was born on March 19, 1938, in New Bethlehem, PA to Howard Nophsker and Dorothy Nophsker (later Roberson). In 1959, he began his military training through ROTC while he attended West Virginia University. He obtained his BS in Electrical Engineering from West Virginia University in 1961 and his MBA from Auburn University at Montgomery in 1973.
Gary joined the United States Air Force (USAF) in 1961. He became a fighter pilot and served tours in the United States, Europe, Vietnam, and Korea. He obtained countless hours of training and flew hundreds of combat missions with the USAF. He flew the F-100 from 1962 to 1969. He served 3 tours in the Vietnam War. He was greatly devoted to serving our country and, if it were up to him, would have spent the rest of his life flying "into the wild blue yonder." However, in 1989 after 28 years of service, Gary reluctantly retired with honors from the USAF as Lieutenant Colonel at Bergstrom Air Force Base in Austin, TX.
After his retirement from the USAF, Gary went on to work for the Texas Education Agency in Austin, TX for 17 years. This career was not nearly as exciting for him as his service with the USAF. But then again, he was stuck in Austin traffic for the majority of the day. Supersonic speed in a fighter jet was not an option.
Gary was a devoted husband, father, and grandfather. He was a selfless and caring man who always put his family first. He enjoyed road trips with his wife, Kim, and spending time outdoors in their Hill Country home. He was a great problem-solver and enjoyed the challenge of any and all projects around the house. His friends meant a lot to him and he enjoyed keeping in touch with them through reunions and chats with his Misty, Super Sabre Society, QBs, and 613TFS.
He bravely and courageously fought for his life until the very end. Despite his pain and suffering, no one would have been able to tell what he was going through. He had a great poker face. He won his battle and "slipped the surly bonds of earth" and returned to dancing "the skies on laughter-silvered wings" (excerpt is taken from "High Flight" by Pilot Officer Gillespie Magee.) Gary was guided to his Heavenly home with God as his co-pilot.
He is survived by his loving wife of 36 years, Kim Nophsker of Driftwood, TX; daughters Linda Canales (Angel Canales) of Connecticut, Debbie Burkholder (Tim Burkholder) of Georgia, Terri Kinsel of Florida, Dawn Nophsker Chen (Thomas Chen) of Texas, Vicki Holcombe (Blair Holcombe) of Texas, and sons Mike Nophsker of South Carolina and Tom Nophsker of South Carolina. He is also survived by 13 grandchildren and 15 great-grandchildren.
He will be laid to rest in a small service with full military honors. Donations are gratefully accepted and can be made in Gary's memory to "The American Cancer Society."
Gary's burial at Ft. Sam was on 7/14/20. Click here for a video of the ceremony. https://www.youtube.com/watch?v=JL-imJEObqU&feature=youtu.be  Please raise a toast of Shiner Bock (his favorite) in his honor.
Source: https://www.harrellfuneralhomes.com/obituary/466515/Howard-%22Gary%22-Nophsker/obituary-services/