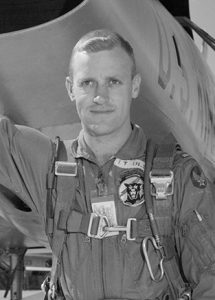 James Kelly Olson (Capt, USAF) "Headed West" on November 7, 2020
Air Force Captain James Kelly Olson graduated "with distinction" from the U.S. Naval Academy in 1956, ranking 95th in his class of 682. After graduation, Olson took primary flight training at Graham Air Base, Mariana, FL flying the T-34A Mentor and the T-28A. He was ranked 1st in his class of sixty. He then reported to Webb AFB in Big Spring, TX learning to fly the T-33A jet and receiving his Air Force Silver Pilot's Wings in the summer of 1957. In the Fall of 1957, he attended gunnery school at Williams AFB in Chandler, AZ, flying the F-86F. It was at advanced gunnery school at Nellis AFB, Nevada where he began flying the F-100F and F-100A.
In his first assignment after flight training, Olson was assigned to the 21st Fighter Day Squadron at George AFB, CA, flying F-100Ds and F-100Fs. In February 1958 he deployed to Morón SAC Air Base in Seville, Spain for four months, sitting "alert" (supporting USAFE in air defense of Europe).
After one year at George, the mission was changed. The 21st Fighter Day Squadron became the 307th Tactical Fighter Squadron, delivering "special weapons" (nukes) using the LABS (Low Altitude Bombing System). The 307th deployed for four months on tactical nuclear alert to Aviano Air Base in Italy. In 1961 Olson flew "goodwill" tours in the F-100D to Pakistan then to Hawaii, the Philippines and Bangkok, Thailand.
In 1963 Olson received orders from the Institute of Technology, Wright-Patterson AFB, to attend the University of Southern California for two years, obtaining a Master's Degree in Aerospace Engineering. While attending USC, Olson saved his civilian roommate's life, pulling him out of their burning apartment.
After USC, Olson, now a Captain, was assigned to the highly-compartmentalized top-secret Spacecraft Recovery Office, Space Systems Division, Air Force Systems Command, working from the summer of 1963 to January 1965 under Lt. Col. Leo J. Foster. Olson's job was to improve and increase reliability in the top-secret Discoverer/Corona program. The primary mission was to retrieve 200-pound equipment packages parachuted from down-thrusted reconnaissance satellites west of Hawaii, where they were snagged mid-air by C-130s.
In another top-secret project which involved flying into Area-51 at Groom Lake, Nevada, Olson was brought in to make preliminary evaluations on the feasibility of a system to retrieve jettisoned photo-recording modules from the A-12 high-altitude reconnaissance plane (which later morphed into the SR-71 Blackbird).
In a later assignment, Olson functioned as Air Force liaison to Tom Dayton, Program Manager at Ames Research Center (NASA Ames), tasked with developing a retrieval system for NASA's Bio-Satellite program. Olson provided technical support on a mid-air retrieval system for the Atomic Energy Commission's (AEC) "Project Ashcan" which involved air sampling by high-altitude balloons over Alaska and Canada.
Olson was then accepted into the Aerospace Research Pilot School (ARPS) at Edwards AFB under Commandant Col. Chuck Yeager, learning flight test techniques for new air and spacecraft, graduating at the end of 1965.
In December 1965, Olson volunteered to go to Vietnam, and on March 9, 1966, was attached to the 4409th Combat Crew Training Squadron (TAC), Hurlburt Field at Eglin for pilot training in the A-1E Skyraider. Reported to Eglin, flew a few times but was grounded for "neuropsychiatric depression" and was hospitalized for six months after which he determined his flying time in the Air Force was behind him and opted out. Olson received an Honorable Discharge on October  11, 1966.
After his discharge from the Air Force, Olson purchased a business in Lancaster, CA, and then relocated to Hobart, IN, working for twelve years as a field engineer at the Tube Works of U.S. Steel Corp. in Gary. In Hobart, Olson ran for Mayor (1983) and then for U.S. Congress (1984) "to restore the American Dream of Progress" garnering 4.96% of the vote in the Republican primary. Olson later moved to Lawrenceville, Georgia, where he ran from District 61 for the Georgia House of Representatives (1988), winning his primary, but not the general election.
For many years after leaving the Air Force, Olson has enjoyed flying cross-country with his co-pilot Franza, a female black German Shepherd. Olson has owned a Piper PA-20 Tri-Pacer and was part-owner of a Mooney Super-21 (Mark 20-E). In retirement, he lived quietly in Charles Town, West Virginia, working on his autobiography and coping with macular degeneration.
He will be missed.