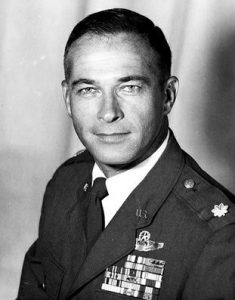 James Thomas "Jim" Harwood (87), of Hot Springs, Arkansas headed west March 10, 2018.  He was born Feb. 2, 1931, in Jonesboro, Ark., to Thomas and Pauline (Summers) Harwood. He is predeceased by his son, Raymond; brother, Marc; and sister, Joan.
Jim is survived by his wife, friend and greatest love, Marilyn; sister, Cynthia Dilatush; son, Bert Harwood — his wife Gayle; daughter, Melinda Barker — her husband Bill; daughter, Lynn Kelley; grandchildren, Arron Harwood, Justin Harwood, Amber Rust, William Kelley, Jamie Dannelly, Misty Huss, Adam Neighbors, Julian Green; and 10 great-grandchildren.
Jim grew up in Jonesboro where he learned and loved nature, enjoyed hunting and fishing, often bringing home his "catch of the day" to a doting grandmother.
He served our country as a career Air Force fighter pilot, which included tours in both Korean and Vietnam wars. He flew the F-100 with the 307th TFS at Torrejon AB, Spain and during the Vietnam conflict, he flew 244 combat missions in the F100 and A1E Skyraider and was awarded the third highest U.S. medal, the Silver Star for heroism in Vietnam.
Jim was one of the founding members of the Hot Springs Bonsai Club, an extension of his passion for nature and gardening. Many of his creations may be seen at Garvan Woodland Gardens nature preserve, near Hot Springs. He was also a founding member of the Fountain Lake Fire Department, serving as a volunteer firefighter, chief and all-around mechanic on their numerous equipment trucks. Jim also was a member of the Lions Club in this area.
His first love was always his family. A wonderful son, brother, husband, and father. Jim was always the "go to guy" for advice and knowledge, touching everyone in his circle of life.
A celebration of Jim's life was celebrated in Hot Springs, AK.