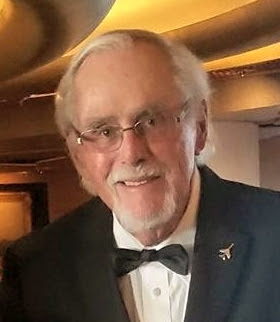 SSS Charter member Colonel James Carlisle Doggette, Jr., USAF (Ret.), age 81, of Chamblee Drive, Walterboro, headed west, June 3, 2015, at the Harborview Medical Center in Seattle, Washington, following a fall during an Alaskan cruise.
The Relatives and Friends are invited to attend the funeral service of the former which will be conducted with Full Military Honors, 4 o'clock Wednesday afternoon, June 10, 2015, at Saint Jude's Church, 907 Wichman Street, Walterboro.  A reception will follow the funeral rites in Skardon Hall of Saint Jude's Church. (Interment will be at a later date TBD in Arlington National Cemetery, Arlington, Virginia.)
A son of the late James Carlisle Doggette, Sr. and the late Eleanor Hood Doggette, he was born November 3, 1933, and was a native of Hampton and York Counties, South Carolina.  Jim graduated from York High School, received his Bachelor Degree in Business from the University of South Carolina, and his Masters Degree in Psychology from Ball State University.  He also graduated from the United States Naval War College "With Distinction".  After college, he joined the United States Air Force and flew the F84-F, F-100, F-105, and the USN F-8 on the carrier USS Shangrila.  Later he was the Base Commander at Seymour Johnson Air Force Base in North Carolina and Hancock Field in New York.  During his time in service he was stationed in Itazuke, Japan; Myrtle Beach, South Carolina; Aviano, Italy; Jacksonville, Florida; Las Vegas, Nevada; Riyadh, Saudi Arabia; Newport, Rhode Island; Goldsboro, North Carolina; and Syracuse, New York.  
Jim's Decorations include the Meritorious Service Medal, Air Medal, Air Force Commendation Medal, Joint Service Commendation Medal, Small Arms Expert Marksmanship Ribbon, Air Force Longevity Service Ribbon, Republic of Vietnam Campaign Medal, Republic of Vietnam Gallantry Cross, Vietnam Service Medal,  National Defense Service Medal, Combat Readiness Medal, and Air Force Outstanding Unit Award.
After his retirement, Colonel Doggette resided in the Charleston and Mount Pleasant communities of South Carolina (until making Walterboro his home in 1998).   He began another career with Hawthorne Services, Inc. in Charleston where he served as the company's Vice President and Chief Operating Officer.  After five years, he decided to turn his part-time love of sailing into a fulltime job.  He became a yacht Salesman at Pilot Yacht Sales in Charleston.
Jim was a member of Christ Church in Mount Pleasant, where he and his wife were married.  After the couple moved their residence to Walterboro, he became a member of Saint Jude's Church, where he was active in many aspects of the church's life and work.  Jim was dedicated to his faith and church.  At Saint Jude's, he was a Lay Eucharist Minister; served several terms on the church's vestry; was a member and chairman of the Outreach Committee; and as well as served in various other areas of the church.  Jim's passion to help others inspired him to found the church's food pantry, which later gave birth to the Annual Thanksgiving Day Lunch. Over the years, this event has grown to feed well over one thousand of the community's residents.
His military life lead him to join and participate in numerous military clubs and organizations to include: Military Officers Association of American, Air Force Association, Order of Daedalians (a prestigious military pilots organization), Lighter Than Air Society, Super Sabre Society (Fighter Pilots), and the Command Bar Stoolers.  He was also a member of The Veterans of Foreign Wars – Colleton County Post 12102 and the American Legion – Walterboro Post No. 93.    Civically, he held memberships in numerous organizations to include: The International Association of Lions Club in Walterboro and The Benevolent and Protective Order of Elks – Walterboro Lodge No. 1988.
Surviving are: his wife, the love and light of his life, Mrs. Gale Munn Doggette; five children, James Watson Doggette of Charleston, Lisa Doggette Brabham and her husband Mike of Alpharetta, Georgia, Eleanor Doggette Washburn of Mount Pleasant, James Carlisle Doggette, III of Charleston, and Ryan Everett Munn of Summerville; and a sister, Linda Doggette Suber and her husband Von of Columbia.   He is also survived by six grandchildren, Jennifer Nichole Doggette, Caroline Rose Brabham, Thomas Dannelly Brabham, James Watson Brabham, Edward Michael Washburn, Jr., and Eleanor Rose Washburn; a great grandchild, Hunter Washburn; as well as three nieces, Chappell, Sara, and Shannon; two nephews, Patrick and Brandon; a sister-in-law, Dale Munn, and his two beloved pugs, LiLi and Chu.