Major Lawrence "Kelly" Irving (Misty 66) "Headed West" September 4, 2020.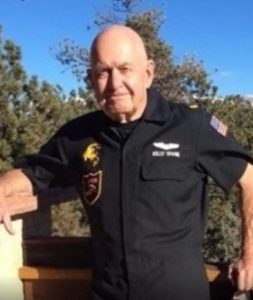 Lawrence Kelly Irving, 80, died in the care of his loving wife at home in Colorado Springs, Colorado, September 5, 2020. He entered Heaven's gates at 12:15 pm because of his renewed faith in Christ.
He was born on March 25, 1940, in Phoenix, Arizona to Walter Lee Irving and Lawilda W. McGrew. Upon graduation from Hollywood High, Hollywood, California, in 1958, he joined the Aviation Cadet Program with the US Air Force. He received his navigator wings and commission in 1960 and was assigned to B-47s with the Strategic Air Command at Mountain Home AFB, Idaho. In 1966, while assigned to Mountain Home, Kelly became the father of a beautiful daughter, Kelly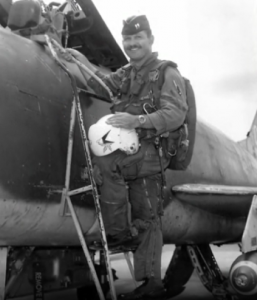 Suzanne Irving.
He entered pilot training at Laredo AFB and received his pilot wings in 1967. Upon graduation he began his career as a fighter pilot which took him to assignments to Cannon AFB, New Mexico; Bien HOA AB, Vietnam; PhuCat AB, Vietnam; Craig AFB, Alabama; Ubon RTAFB, Thailand; Spangdahlem AB, Germany; and Eglin AFB, Florida. He was a command pilot with over 3,500 hours total flying time in the T-37, T-38, T-39, B-47, F-100, and F-4. He served his country with two tours of duty in Southeast Asia, with over 800 combat hours.
While in Southeast Asia on his first tour he volunteered to serve as a Misty FAC, with the callsign of Misty 66. While flying as a Misty he was shot down by enemy ground fire and later rescued. After returning Stateside he served a short tour in Air Training Command prior to volunteering for a second combat tour. During this second tour while flying the F-4 he participated in, and led, combat missions during Linebacker II. His military awards include the Silver Star with Oak Leaf Cluster, Distinguished Flying Cross with 3 Oak Leaf Clusters, Air Medal with 29 Oak Leaf Clusters, and the Purple Heart.
In 1978, while at Eglin AFB working at TAWC, Kelly met Gail, the love of his life. They were married on November 9, 1979, and their life journey began. Kelly retired from the USAF in January 1980. Together, they enjoyed scuba diving, traveling, flying, skiing, church, pets, family and friends. March 1981, Kelly became an airline pilot with New York Air which later merged into Continental Airlines, retiring as a DC-10 Captain in March 2000. They went on to build their dream home in Florissant, Colorado, where they lived until August 2019. In September, Kelly and Gail moved to Colorado Springs and enjoyed their beautiful new home until his passing.
In addition to his military and commercial flying, Kelly was an avid general aviation pilot and a member of the Quiet Birdmen. A raconteur of the highest order, he will be remembered as a true patriot and strong supporter of Constitutional Law.
He is survived by his wife of forty-one years, Gail Irving; his daughter, Kelly Suzanne Taylor; and many extended family and friends.
Kelly will be missed by all who loved him and enjoyed his colorful personality.
A private Funeral Service will be held, 3:00 PM, Sunday, September 13, 2020. The service will be streamed live. The link to watch the Funeral Service is located on Lawrence's Tribute Wall on The Springs Funeral Services website. A beautiful tribute can be watched at https://www.tributeslides.com/tributes/show/GBYB3S99F577MJ22
Interment will be at a later date at Arlington National Cemetery, Arlington, Virginia 22211.
To send flowers to the family or plant a tree in memory of Maj Lawrence Kelly Irving, USAF, (Ret.) please visit our 
Tribute Store
.