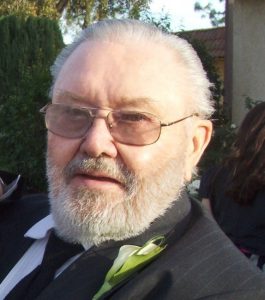 Ellsworth "Bob" Tulberg was born on September 13, 1930, in Bismarck, North Dakota. During World War II his family moved to Santa Paula, California where he attended Isbell Jr. High, Santa Paula High School, and Ventura College.
He enlisted in the Air Force in 1950, and after completing pilot training, in 1953, married Carolyn Louise Richards. During his early Air Force career, they were stationed in Valdosta, Georgia, then Wichita, Kansas, where daughter, Bobbi, was born.
While they were stationed in Wichita, Carolyn traveled to California where twins Amy and Terri were born at Port Hueneme Naval Base. The family moved to Nellis Air Force Base (AFB) where Bob received additional training. His next station was Kadena AFB in Okinawa, Japan, as a member of the 67th Tactical Fighter Squadron. This assignment also took him to Korea. In Okinawa, his first son, Ellsworth (Gene) Jr. and fourth daughter, Patty, were born. The growing Tulberg family moved again when Bob was stationed at Eglin AFB in Florida where he participated in the category II testing of the Republic F-105 Thunderchief Fighter/Bomber. Son Clark was born there.
The Air Force sent him next to USC where he earned his degree in Aeronautical Engineering. At USC he was a member of the Tau Beta Pi fraternity. Following graduation, he worked at Systems Command at Vandenberg AFB on a program that launched top-secret weather satellites. During his time in California, the family lived in Van Nuys, where Mary, Mattie, and Carl were born.
The Vietnam War took Bob to Takhli, Thailand where he flew 100 missions over North Vietnam. His next assignment was at the Pentagon where he was Project Element Manager for the Minuteman Missile Program. While stationed at the Pentagon, the family lived in Camp Springs, Maryland and their tenth child, Christine, was born.
During his 22-year Air Force career Bob earned numerous medals and commendations including: Silver Star, Distinguished Flying Cross + 2 Oak Leaf Clusters (OLC), Air Medal + 13 OLC, Meritorious Service Medal + 1 OLC, Air Force Commendation Medal, National Defense Service Medal + Bronze Service Star, Outstanding Unit Award + 2 OLC, Vietnam Service Medal, Republic of Vietnam Campaign Medal.
Upon his retirement from the Air Force in 1973, Bob's family moved back to Santa Paula, California. He and Carolyn worked as realtors for Richards Realty and in 1977, Bob was elected president of the Santa Paula – Fillmore Board of Realtors. Bob's next job was working as a civil engineer for the City of Santa Paula. During these years, Bob spent as much time as he could flying taildraggers at Santa Paula Airport and at various times was the owner of a Piper Vagabond, a Pazmany PL-4, and even an acrobatic Pitts biplane. His vast flying experience and good-natured humor fit in well with the cadre he liked to call the Airport Bums. Throughout their lives together Bob and Carolyn took the family on long trips throughout the country and in later years embarked on multi-month RV trips from Mexico to Alaska and points between.