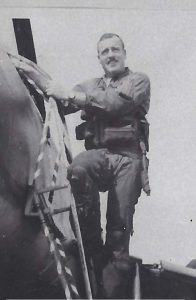 Patrick C. Parks (Lt. Col, USAF, Ret.) "Headed West" on May 12, 2020.
Patrick C. Parks, Lt. Col. (ret.) USAF, 85, a 60-year resident of Sergeant Bluff passed away Tuesday, May 12, 2020, of COVID-19.
A celebration of his life will be held later this summer. Waterbury Funeral Service of Sergeant Bluff is assisting the family with arrangements.
Pat was born Sept. 19, 1934, in Sioux City. In April 1958, Pat married Patricia Barber of Bronson, Iowa, and they had 62 years of marriage together.
After joining the Iowa Air National Guard at age 17, Pat graduated from Wayne State Teachers College. He taught at Central High School and Sergeant Bluff-Luton School District for several years before becoming activated in 1968 for the Vietnam war conflict.
He was an Air Force fighter pilot and stationed in Phu Cat, Vietnam, with the 174th Tactical Fighter Squadron of the Iowa Air National Guard.
Upon returning from the war in 1969, he continued a full-time career with the Iowa Air National Guard here in Sioux City. He served almost 35 years doing what he loved, flying jets.
He was a member of the Super Sabre Society, American Legion, and the Knights of Columbus. Pat loved playing golf and spending time with his family. Many Sergeant Bluff graduates took driver's education from Pat as he did this as a part-time job in addition to his military career.
Pat and Patty had four children, Pamela (Daniel) McBride of Colorado Springs, Colo., Peggy (Dave) Parks Wessling of Whiting, Iowa, and Phillip (Pam) Parks of Akron Iowa. He is also survived by two brothers, Jerry (Joann)Parks of Moville, Iowa, and Joe(Sharon) Parks of Bronson, Iowa; a sister, Kay (Vince) Murphy of Sioux City; 11 grandchildren, Travis, Nicole, Brooke, Elizabeth, Josh, David, Nicholas, Amanda, Abby, Sean and Olivia; and 18 great-grandchildren, who will miss "Pop" dearly.
He is preceded in death by his parents, Paul and Catherine Parks; his son, Paul D. Parks; son-in-law, Dave Wessling; and his infant granddaughter, Madeline Parks.
The family would like to thank Hospice of Siouxland for their support during his last days.
In lieu of flowers, the family asks that memorials be directed to Saint Joseph's Catholic Church, Salix, Iowa, where Pat was a lifelong member, the Siouxland Humane Society, or donations to the Food Bank of Siouxland.
Dick Pietro remembers Patrick, "He was a great red-haired Irishman loved by all of us."
Source: https://siouxcityjournal.com/news/local/obituaries/patrick-c-parks/article_d34a0110-623e-550e-ad93-96e02e4a8a98.html