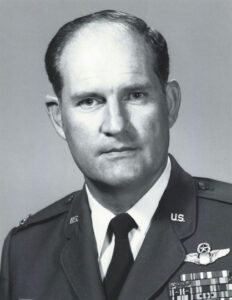 Robert "Bob" Leggat, Colonel, USAF (Ret.), passed away peacefully in his home surrounded by his wife and family members on Friday, January 20th, 2017. Robert Leggat was born in Salt Lake City, Utah on October 29th, 1938, the son of Robert O. and Frieda Martha Strasser Leggat. He grew up in Willard, Utah, graduated from Box Elder High School in 1956, and completed an LDS Mission in North Germany in 1961. He married Elaine Marchant (the girl of his dreams) in September of that year.
Robert spent an honorable career serving our country in the Air Force. He graduated from BYU in 1964 and was commissioned a 2nd Lt in the US Air Force. After completing USAF pilot training at Webb AFB in Big Spring, Texas he was assigned to fly the C-141 Starlifter Aircraft and spent many years flying worldwide missions as an Aircraft Commander Instructor Pilot, and as a Pilot Flight Examiner in that aircraft. In 1967, he volunteered for duty in Vietnam as an F-100D Fighter Pilot where he earned numerous decorations including more than 40 Air Medals and The Distinguished Flying Cross.
After Vietnam, Robert became Commandant of Cadets at BYU's Air Force ROTC Detachment followed by an assignment as Professor of Aerospace Studies at the University of Utah where he was promoted to the rank of Colonel. Colonel Leggat's final Air Force assignment was Deputy Commander of the 7350th Air Base Group at Templehof Central Airport in Berlin, Germany. He retired from the Air Force after 23 years of service.
Robert then served for 15 years as Executive Director of First Step House, a 100 bed residential substance abuse treatment center for homeless adult men, many of whom were Vietnam veterans themselves. Finally, Robert drove school busses for 11 years, happily serving students of Jordan and Canyons School Districts. Robert learned the value of hard work from his teenage years growing up in Willard, and passed this on to those he worked with and those who knew him closest. Everything he touched he made better because of his dedication to excellence.
When Bob wasn't working, he enjoyed writing and had a gift that he loved to share in his annual Christmas letters and three published children's books that he was known for giving out to family, friends and hospital staff, alike. But above all, Bob was known as a man of service. Whether it was serving his family members or those in his community, Bob was an example of Christ-like charity. Wherever Bob went, he cared for people and he left them smiling at his wonderful sense of humor. We will all miss the feelings we had when we were around our husband, father, grandfather, and friend. Thank you, Robert, for your example, your life, and your memorable example for those of us who were so blessed to have you in our lives.
Robert Leggat is survived by wife, Beth "Elaine" Marchant Leggat of Midvale, Utah, and his six children, Jeffrey (Debi) Leggat, JoLynn (Henry) Sorensen, Bryan (Heidi) Leggat, Marin (Keith) Roper, Kevin (Becca) Leggat, and Bradley (Jenna) Leggat, as well as his 18 grandchildren: Erin, Kelsey, Amy, Alyssa, Nicole, Hannah, Kalista, Kimberlee, Aidan, Robert, Lily, Gentry, Blake, Sam, Brielle, Van, Phoebe, and John.
Robert is buried at Larkin Sunset Gardens.
Source: https://www.goffmortuary.com/obituaries/Robert-Leggat/#!/Obituary