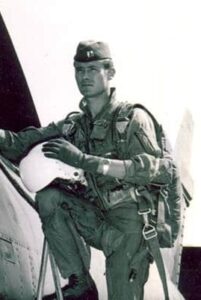 Lt. Colonel Robert G. "Bob" Hedgepeth of the United States Air Force died on Monday, February 7, 2022, at his son's home in Niceville, Fl. He was preceded in death by his son, John, and his wonderful companion of 24 years, Joan Maher. He is survived by his son, Brett Hedgepeth, and wife, Suzanne, and their sons, Brennan, Will, and Lincoln all of Niceville.
Bob lived his dreams of being an Air Force pilot for 20 years. He then worked for Boeing Corporation in Saudi Arabia teaching the Saudis how to fly the Boeing planes. Finally, he worked with Boeing in St. Louis until he retired.
Memorial services were held on Wednesday, February 16th at Blaylock Funeral Home in Littleton, and then buried with military honors in Sunset Hill Cemetery. In lieu of flowers, please donate to your local hospice or the charity of your choice. (1)
F-100 Days
Robert began flight training and graduated from the USAF Pilot Training Course, Laughlin Air Force Base, Texas, on June 21, 1968. He was Dual Rated Senior Pilot/Navigator.
In June of 1968, he was assigned to the 27th Tactical Fighter Wing, 524th Tactical Fighter Squadron for F-100D Upgrade Training School at Cannon Air Force Base, New Mexico. He then began a tour of duty with the 35th Tactical Fighter Wing, 614th Tactical Fighter Squadron at Phan Rang Air Base, Republic of Vietnam, on March 13, 1969, flying the F-100D. Robert flew 238 combat missions and was awarded Distinguished Flying Cross for extraordinary flight in mountainous terrain, adverse weather, and under hostile fire resulting in a sizeable enemy force being destroyed. He completed a second flying combat tour.
Robert was then assigned to the 48th Tactical Fighter Wing, 493rd Tactical Fighter Squadron (F-100D/F), Royal Air Force Base (RAF), Lakenheath, United Kingdom on February 4, 1970, in the Dedicated Nuclear Alert Forces committed to targets in Eastern Europe.
(1) Source; Source: Robert Gray "Bob" Hedgepeth Obituary (tributearchive.com)