We just recently received this information, and send our deepest sympathy to his family and friends.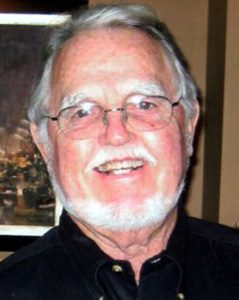 William "Bill" Robert Henderson, (Major USAF, Ret) was called home to his Lord and Savior on Saturday, October 3, 2020.
Bill was born in Kansas City, MO. Upon graduation from high school, he joined the U.S. Air Force where he proudly served as a decorated fighter pilot of numerous jets, including his favorite F-104 Starfighter. His military service took him to Okinawa, Laos, Vietnam, Washington DC, Arizona, South Korea, and Berlin.
During the Cold War, Bill served at the Berlin Air Safety Center, a most unique and distinguished position of safely directing American airplanes through airspace that was individually controlled over what was then West and East Berlin; four distinct countries – the Soviet Union, France, England, and the United States – each represented by an individual officer, who, in one room and facing each other across air traffic control boards, worked together during this most tumultuous of times to safely manage the air space above the Berlin Wall and the city it separated.
After 23 years in the USAF, Bill retired and went on to earn a BS degree from Oklahoma City University. Bill dabbled in a number of entrepreneurial pursuits, including selling corporate jets, before he found his second-calling working for the Federal Aviation Administration. One of his proudest work achievements was leading the talented FAA team that developed the arrival and departure flight patterns at the brand new, innovative, and world-class Denver International Airport. As a leader, Bill's dedication to both the professional and personal success of his team is evident in the group of employees who have stayed in close touch with Bill since his FAA retirement 21 years ago, both for fun (playing golf and a bit of wagering over a pint of beer) and for their care and unwavering support to Bill. Upon his retirement from the FAA, Bill found love a second time with our adored, Glynda, and he passionately played golf, enjoyed traveling with Glynda and many friends, and relished being surrounded by his beloved family.
Daddy/Grandpa Bill has had a profound impact on his family – his strength became our strength, his compassion became our compassion, his humor and smile always left us content, and his bear hugs provided us with a lifetime of reassurance and powerful love.
Known as "Mr. Safety" by his family, Bill never let an opportunity pass to remind those he loved to lock their doors and to call him to let him know that they had arrived safely at their destination; they have always been "my baby girls". The son of a mechanic who could take apart and repair, well, anything, Bill inherited that intuitive gene and became known as "Mr. Fix-It" to even his littlest fans at the daycare center housed inside one of his and Glynda's investment properties.
You'd forgive him for not always being patient while teaching three daughters how to take care of themselves (they are a bit of Miss Fix-It's to this day), and for his household democracy which humorously, albeit repeatedly, gave four votes to his wife and daughters and five votes for himself. Yet, he did not disappoint to thoughtfully surprise and engage us throughout our time together. Bill lived by the mantra of "helping others along the way" and his dedication to this principle continues as he generously donated his earthly body towards the priceless gift of medical advancements.
He was predeceased by his parents, Fred and Helen Henderson; his sister, Helen Stabler; and his wife, Wanda (Henry) Henderson, mother to his children.
Bill is remembered with deep love by his wife, Glynda Henderson of Edmond, OK; his daughters: Susie (Henderson) Miller and her husband, Bill, Wendy Henderson, and Diedre (Henderson) Williams and her husband, Randy, and step-sons Dean Walker and Len Gardner and his wife, Jennifer; his grandchildren: Clint Miller and his wife, Christi, parents of great-grandchildren, Leighton and Finley, Jill Williams Matthews and her husband, Rob, parents of Bill's soon-be-welcomed great-grandson, Jordan Miller, and Tyler Williams; four step-grandchildren; six step-great-grandchildren; and an extended circle of family and friends.
There was a socially distanced (mask up) Celebration of Life on Tuesday, October 13, 2020, at Church of the Servant in Oklahoma City, OK, with care from Bill Merritt Funeral Service.  In lieu of flowers, the family suggests donations to the Wounded Warrior Project or Alzheimer's Association.
To see a memorial video click here.