In memoriam: 'Nickel on the grass' to Lt. General Charles 'Chick' Cleveland.
This article (excerpted) and photos by Col. Al Allenback appeared in the Montgomery Advertiser on May 27, 2021, following the death of Chick Cleveland.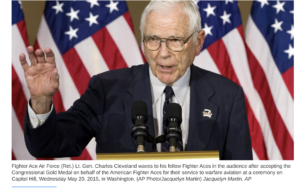 "General Cleveland was the last living Korean War Ace, a man who made history and meant so much to so many…Cleveland was an Ace in the Korean War, and a friend of the River Region through his work commanding Air University… During his time as commander of Air University, he encouraged the development of the "Gathering of Eagles" program and brought the U.S. Air Force jazz group "The Airmen of Note" to Montgomery, establishing the beloved Christmas holiday Glenn Miller Concert series. He expanded the role of the Alabama World Affairs Council to help bring academic and government diplomatic leaders to talk with interested River Region members. General Cleveland was very active in the American Fighter Aces Association. His story, "Once A Fighter Pilot", by Warren Trest, is a biography that moves almost as fast as the jets he flew!
[The author's] "first encounter with this amazing American was on May 18, 1976, at Craig Air Force Base in Selma. Undergraduate Pilot Training Class, 7706, "Where Eagles Dare", was graduating and I had the honor to be the top graduate… Top grad meant some kind of recognition at the graduation ceremony, and that was provided by a tall, lean, steely-eyed two star flag officer, Major General Charles Cleveland, USAF, who was the Air Training Command Director of Operations. He presented me with the Air Training Command Commander's Trophy, a silver engraved cup that remains a cherished memento of my Air Force career, made even more so by the presenter, and our subsequent relationship over the years…
"An officer and a gentleman, he definitely was. But Chick Cleveland was foremost a warrior, a pioneer in the nascent jet age of aerial combat that began during the Korean War. The dueling masters of the skies were the Soviet built (and sometimes Soviet flown) North Korean MiG-15s and the American F-86 Sabre Jets. This was high speed swept-wing jet combat, guns only (air-to-air missiles hadn't been invented yet), sometimes going transonic, with closing speeds of 1200 mph, much faster than WWII fighter combat only a few years earlier…
"…Chick had ended the [Korean]war one kill short of Ace status (you needed five verified aerial kills to be recognized as an Ace, a very exclusive club). On a fighter sweep up to "MiG Alley" just south of the Yalu River and the Red Chinese border in late 1952, Lieutenant Cleveland shot down two MiG-15s, his fifth and sixth kills. As Cleveland described the action:
"I was close to that guy. I know he never got home. I hit him hard from close range, and he went into a vertical dive into the roll cloud of a towering thunderstorm, and MiGs just didn't do that. I couldn't follow him and I didn't see him bail out, explode, or crash, which is necessary for a confirmed 'kill,' but I know he never got out of that thing alive."
"But without confirmation, the coveted status of Ace would elude him for most of the next fifty years… the F-86, "The Chris Craft", which was the actual jet General Cleveland flew in Korea…[with] six red stars under the canopy had two with the white "P" for "Probable" painted in the middle, [that] still weren't confirmed… later "a retired Russian fighter pilot saw a story about Chick Cleveland and his fur ball over the Yalu in 1952 that resulted in two MiGs shot down, but no confirmation.  This former adversary, who was a Soviet "advisor" to the North Korean Air Force, thinks back and gets his logbook out and sure enough, he was actually in that fight, that day, and remembered the two MiGs being shot down by an American F-86! After a couple of emails and some additional verification from guys in his flight, and in 2000, Cleveland was recognized by the Air Force as its 40th jet fighter Ace of the Korean War, a half-century after the armistice.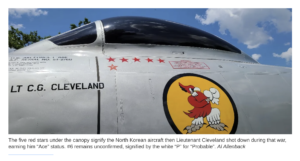 "Subsequently, Cleveland received the Silver Star and on May 20, 2015, he was one of 77 American flying Aces to receive the Congressional Gold Medal at a ceremony in Washington D.C., the highest honor that the Congress can bestow on behalf of the American people. Locally, we held a closed mess dinner in the Daedalian Room at the Maxwell Officers Club to honor his achievement, a traditional fighter pilot tribute to Chick and his remarkable achievement.
"In the fighter pilot community, we honor our fallen with the phrase "…throw a nickel on the grass", which rhymes with the rest of the phrase, "…save a fighter pilot's – – -!"  (It goes back to an old Salvation Army song about "throwing a nickel on the drum").
"So here's a nickel on the grass to you, my friend, for your enthusiasm, sacrifice, courage but most of all, your friendship. Yours is a dying breed, and now that you are gone, the world is a lesser place.""
For the full article go to The Montgomer Advertiser