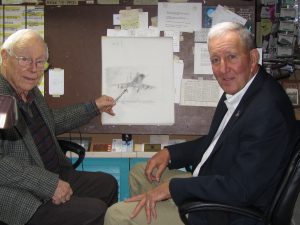 Well known aviation artist and Associate SSS member  Keith Ferris and SSS CEO Hoppy Hopkins working on a rough sketch of what will be a full color, oil on canvas painting of the Smithsonian's Steven F. Udvar-Hazy Center's F-100D, Serial No. 56-3440.
_________________________________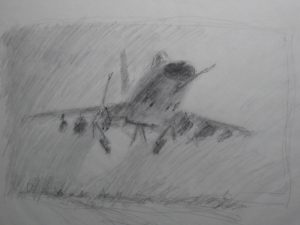 This working sketch portrays a 3rd TFW combat loaded "Hun" at liftoff on the first evening of the Vietnam Tet Offensive, 31 January 1968. [Where were YOU at that historic time?]

Mr. Ferris will complete a small "Oil Study" of the expected full color, final painting. When approved, we will post a digital image of the study on this website, with instructions as to how to place orders for full sized professional lithograph prints, signed and numbered by the artist.
We expect that digital image within the next three weeks. We're presently planing for an edition size of 350 prints, and the expected price will be in the $250 range, including shipping.
We don't plan on offering pre-reserved orders. Rather, when we're ready to take orders, our membership will be notified simultaneously by email and a posting in this website's  "Whats New" section .  Order quantities may be limited and requests for a specific print number(s) will be honored on a first come, first served basis.
Stay tuned for further developments regarding this SSS initiative/project.