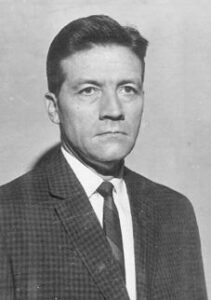 "John Richard Boyd was commissioned as a second lieutenant in the Air Force following completion of the ROTC program at the University of Iowa. On March 27, 1953, Boyd arrived in Korea as an F-86 pilot. He flew a short tour (22 missions instead of 100) in F-86 Sabres during the Korean War during which he served as a wingman and never fired his guns or claimed an aerial kill.
After his service in Korea, he was invited to attend the Fighter Weapons School. He attended school and rose to the top of his class. Upon graduation, he was invited to stay at the FWS as an instructor. He became head of the Academic Section and wrote the tactics manual for the school." (1)
"During the 1950s, John Boyd dominated fighter aviation in the U.S. Air Force. His fame came on the wings of the quirky and treacherous F-100; the infamous "Hun." Boyd was known throughout the Air Force as "Forty-Second Boyd," because he had a standing offer to all pilots that if they could defeat [him] in simulated air-to-air combat in under 40 seconds, he would pay them $40. Like any gunslinger with a name and a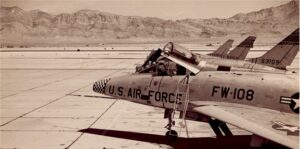 reputation, he was called out many times. As an instructor at the Fighter Weapons School (FWS) at Nellis AFB, he fought students, cadre pilots, Marine and Navy pilots, and pilots from a dozen countries, who were attending the FWS as part of the Mutual Defense Assistance Pact.
He never lost."(2)
Colonel John Boyd flew in World War II, the Korean War, and the Vietnam War. He retired from the USAF in 1975 and during his career was known as Genghis John, The Mad Major, and The Ghetto Colonel. "He is remembered as one of the great war strategists of his time. "His manual of fighter tactics changed the way every air force in the world flies and fights. He discovered a physical theory that forever altered the way fighter planes were designed. Later in life, he developed a theory of military strategy that has been adopted throughout the world and even applied to business models for maximizing efficiency."(2)
For more about John Boyd, check out the information on aviation-history.com or read the book by Robert Coram, listed below.
Sources: (1) Wikipedia; (2) Boyd: the fighter pilot who changed the art of war by Robert Coram