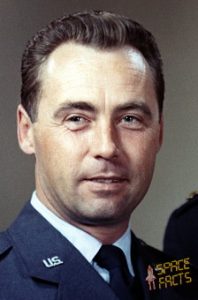 Colonel William "Pete" Knight, (1929-2004) was an F-100 Vietnam Fighter Pilot, Test Pilot, Astronaut, and Aeronautical Engineer.
Knight was born in Noblesville, Indiana on November 18, 1929. After graduating from high school William attended Butler University and Purdue University, then joined the United States Air Force in 1951. As a 2nd lieutenant, he won the Allison Jet Trophy at the 1954 National Air Show flying an F-89.
While only a 2nd lieutenant, he flew an F-89 at the National Air Show in 1954 and won the Allison Jet Trophy.
He earned a Bachelor of Science degree in Aeronautical Engineering from the USAF Institute of Technology in 1958. After graduation from the USAF Institute of Technology and USAF Experimental Flight Test Pilot School (Class 58C), he served as a test pilot at Edwards AFB in California. He was a project test pilot for the F-100 Super Sabre, F-101 Voodoo, F-104 Starfighter, and later, T-38 Talon and F-5 Freedom Fighter test programs.
In 1960, he was selected as one of six test pilots to fly the X-20 Dyna-Soar, "which was slated to become the first winged orbital space vehicle capable of lifting reentries and conventional landings. (1). The X-20 program was canceled in 1963, so Pete completed the astronaut training curriculum through the Aerospace Research Pilot School (Class 63A) at Edwards AFB. He selected to fly the North American X-15.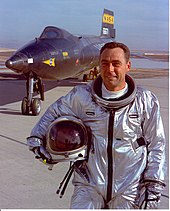 The X-15 had its challenges for Knight. On June 29, 1967," while climbing through 107,000 feet (33,000 m) at Mach 4.17 he suffered a total electrical failure and all onboard systems shut down. After reaching a maximum altitude of 173,000 feet (53,000 m), he calmly set up a visual approach and, resorting to old-fashioned "seat-of-the-pants" flying, he glided down to a safe emergency landing at Mud Lake, Nevada.[3] For his remarkable feat of airmanship that day, he earned a Distinguished Flying Cross."
Pete Knight set another world aircraft speed record on October 3, 1967 "for manned aircraft by piloting the X-15A-2 to 4,520 mph (7,274 km/h), Mach 6.70, a record that still stands today. During 16 flights in the aircraft, Knight also became one of only five pilots to earn their Astronaut Wings by flying an airplane in space, reaching an altitude of 280,500 feet (85,500 m (1)."
In 1968 Pete went to Southeast Asia to fly the F-100 in the Vietnam War. He flew 253 combat missions. Following his Vietnam tour of duty, he served as test director during F-15 Eagle development at Wright Patterson AFB, in Ohio. He was also the program director for the F-5 at Wright-Patterson. In[MB1]  1979, he returned to Edwards AFB and served as a test pilot for the F-16.
Colonel Pete Knight spent 6,000+ hours in the cockpits of more than 100 different aircraft during his 32 years of service. He retired as Colonel from the USAF in 1982.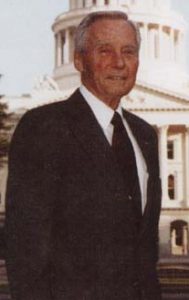 In 1984, he was elected to the city council of Palmdale, California, and four years later became the city's first elected mayor. In 1992, he was elected to serve in the California State Assembly representing the 36th District. He served in the State Senate representing the 17th District from 1996 until his death on May 7, 2004. Knight's youngest son, Steve Knight served as assemblyman for the 36th Assembly District from 2008 to 2012, the seat previously held by his father. (1)
Colonel William "Pete" Knight was enshrined in the National Aviation Hall of Fame in 1988. For more info go to https://www.nationalaviation.org/our-enshrinees/knight-william/
Source: [1]  Wikipedia