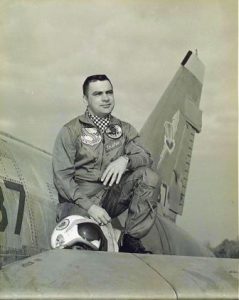 "Colonel Lloyd K. Houchin served his country through a 29-year career as a USAF officer.
He attended Southern Illinois University, graduating in 1956 at the age of 20, and was commissioned a 2nd Lieutenant into the USAF. Lloyd completed pilot training and proceeded to his first operational unit flying F-100s (Huns) at Itazuke Air Base, Fukuoka, Japan. From his unit in Japan, he was deployed to Korea and Okinawa to sit nuclear alert. His second Hun tour was at England AFB, LA, and of the four-year assignment, Lloyd was deployed for almost three years.
During the erection of the Berlin Wall, he deployed to Germany for 4 months. He also deployed for nuclear alert in Turkey, responded to the Cuban missile crisis by sitting alert at Homestead AFB in FL and deployed for two combat tours in Vietnam.
While stationed at England AFB, he also attended Squadron Officer School, graduated from Fighter Weapons School as Top Gun, and graduated from the U.S. Army Parachute Course.
His next assignment was as an exchange pilot with the British Royal Air Force (RAF) Hawker Hunters. In this assignment, he trained new RAF pilots to become fighter pilots at RAF Chivenor, North Devon, England. Selected to major below the promotion zone and selected for attendance at Air Command Staff College (ACSC) at Maxwell AFB, AL.
Upon graduation from ACSC, he was assigned to Nellis AFB, NV to fly F-111s. The F-111s were grounded for a major wing box rebuilding modification so Lloyd volunteered for another tour to Vietnam. He trained as a UH-A Huey helicopter pilot and became a Vietnamese Air Force Wing Commander advisor, flying combat missions out of Da Nang for a year.
Following this Vietnam tour, he spent four years on the ACSC faculty at Maxwell AFB, authoring several articles on fighter tactics and interdiction. He was also the research director for "The Battle for the Skies Over North Vietnam" which was published in a book entitled Tale of Two Bridges and the Battle for the Skies over North Vietnam. or to buy the book click here.
Strategic Air Command (SAC) at Offutt AFB, NE was the next assignment as a senior controller in the SAC command post and then as executive officer for the Director of Operations. Three years later, Lloyd was assigned as the Director of Operations and then Wing Vice Commander of a Minuteman Strategic Missile Wing at Whiteman AFB, MO. During this assignment, he was appointed as the Chief of the Safety Investigation of the Titan nuclear missile explosion near Little Rock (Damascus), AR in 1981. His final military assignment was as the Commander of the ROTC detachment at the University of Illinois, Champaign-Urbana.
Colonel Houchin retired from active duty in 1985. His military decorations include the Legion of Merit, Distinguished Flying Cross, Bronze Star, Air Medal with 13 oak leaf clusters, Meritorious Service Medal with two oak leaf clusters, and several Vietnamese medals and campaign ribbons.
Upon retirement from the Air Force, Lloyd worked as an investment broker, a Certified Financial Planner, and a Trust Specialist with A.G. Edwards. After a successful career of more than 20 years of helping clients obtain their investment objectives, he was forced to retire in 2005 due to the onset of lateral sclerosis, a form of amyotrophic lateral sclerosis (ALS). He died on 18 July 2007. Lloyd was a charter member of the Super Sabre Society."(1)
Source: (1) Air and Space Museum