Major Robert F. Ronca – F-100 KIA Vietnam 1965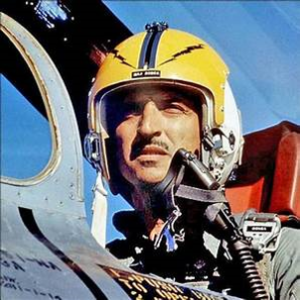 Robert F. Ronca was born on October 21, 1923, in Norristown, Pennsylvania, and had an exemplary career in the USAF. He served in combat and non-combat operations in WWII from 1941-1945, the Korean War from 1950-1953, and Vietnam in 1965.
Robert enlisted in the U.S. Army Reserve on December 12, 1942, and entered the Aviation Cadet Program of the U.S. Army Air Forces on June 30, 1943, earning his commission as a Flight Officer and his pilot wings at Foster Field, Texas, on March 12, 1944.
After serving as a test pilot at Perrin Field, Texas, FO Ronca deployed to New Guinea in June 1944, and served as a C-47 Dakota and C-46 Commando pilot with the 69th Troop Carrier Squadron from June 1944 to February 1945, followed by service as a C-47 pilot with the 318th Troop Carrier Squadron from February to November 1945.
Lt Ronca returned to the U.S. in November 1945, and then served at Greensboro, North Carolina, Ellington Field, Texas, and Keesler Field, Mississippi, before leaving active duty and joining the Air Force Reserve on December 11, 1946. He joined the Pennsylvania Air National Guard on March 16, 1950, and went back on active duty with the U.S. Air Force on January 10, 1951.
After completing F-86 Sabre transition training, he served with the 335th Fighter Interceptor Squadron in Korea from November 1951 to July 1952, and then served with Headquarters Air Force Armament Center (later Air Proving Ground Center) at Eglin AFB, Florida, from July 1952 to February 1960.
During his tour in Korea, Lt Ronca was credited with the destruction of 1 MIG-15 in aerial combat. Capt Ronca next served as an F-100 Super Sabre pilot with the 77th Tactical Fighter Squadron at RAF Wethersfield, England, from February 1960 to July 1963 (1).
Ronca believed in the power held by the USAF. In an Associated Press interview, he once described his job as a jet fighter pilot as "flying nosebone to nosebone with the guy on the ground to see who gets who". (2)
In February 1965 Life Magazine featured Ronca (now commander of the 613th Tactical Fighter Squadron), and his crew with a photo as they left England AFB on their way to DaNang. However, the article didn't hit the newsstands until a few days after his death.
On February 19, 1965 Major Robert F. Ronca, was leading a flight of four in Southeast Asia. At the time, General Moore, the deputy commander for air operations, the Military Assistance Command in Vietnam, and Air America (CIA) were working together sending indistinct missions over North Vietnam and Laos to interdict the Ho Chi Minh trail. The aim of the effort was to suppress the North Vietnamese-backed communists called the Pathet Lao (who had been seen transporting supplies for insurgents into South Vietnam). Ronca's mission was attacking anti-aircraft positions near the Ban Ken Bridge in northern Laos.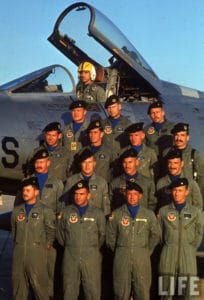 Before taking off on the mission, Ronca had expressed his desire to remain in South Vietnam beyond his tour of duty to continue flying combat missions.
Ronca led his squadron of F-100's aggressively attacking the target on the first pass. Major Ronca's aircraft was hit by ground fire and began leaking fuel. Ronca, with complete disregard for his own safety, continued his mission leading a second attack before his crippled aircraft crashed into a hill in the communist held Sam Neau Province in Laos. No parachute was seen.
He was listed as Killed in Action on that day. Initially there was some confusion about Ronca's death. The North Vietnamese claimed they had his body, though officials said the U.S. had his remains. Because we (the U.S. military) weren't technically "in Laos" at this point in the war, there were many denials at high political levels.
What is often overlooked is that Robert left a family behind. There were his six children and his wife. His son David recalls that there was some confusion about the loss of his father. In a post on "Jet Pilots Overseas" son David (who was only 5 at the time of his father's death) said that the family "had a funeral, and then a mysterious second graveside service".
David's mom also passed away when he was young and much of his father's story was lost to him. He says that "by the time I was old enough to care about these questions, there was no one to ask."(2)
The Super Sabre Society honors the legacy of Robert F. Ronca and his contribution to the history of the F-100.
List of Stations
1941-1944 World War II/Asian Pacific Theater/New
1944-1944 World War II/Asian-Pacific Theater/New Guinea Campaign (1943-44)
1944-1944 World War II/Asian-Pacific Theater/Northern Solomons Campaign (1943-44)
1944-1944 World War II/Asian-Pacific Theater/Bismarck Archipelago Campaign (1943-44)
1944-1945 World War II/Asian-Pacific Theater/Western Pacific Campaign (1944-45)
1944-1945 World War II/Asian-Pacific Theater/Leyte Campaign (1944-45)
1944-1945 World War II/Asian-Pacific Theater/Luzon Campaign (1944-45)
1945-1945 World War II/Asian-Pacific Theater
1945-1945 World War II/Asian-Pacific Theater/Southern Philippines Campaign (1945)
1965-1965 Non-operation sorties/Reconnaissance missions over Laos
Aircraft:
1944-1945 C-47, C-46
1951-1952 F -86
1960-1965 F-100