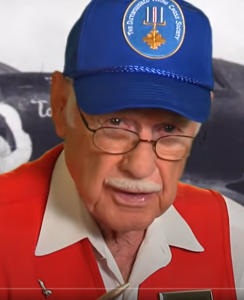 Enjoy this video of  Charles Mohrle, WWII Fighter Pilot, a member of the 510th. Thanks to Joe Vincent for sending the video link.
History of the 510th…
WWII
"The squadron was originally activated at Drew Field, Florida on 1 March 1943 as the 625th Bombardment Squadron, one of the four original squadrons of the 405th Bombardment Group. It was initially equipped with Douglas A-24 Banshees and Bell P-39 Airacobras. Although retaining the same mission and equipment, in August the squadron was renamed the 510th Fighter-Bomber Squadron. The squadron flew its last combat mission of the war on 8 May 1945.
The 510th Fighter-Bomber Squadron was re-activated at Godman Air Force Base, Kentucky on 1 December 1952, when it assumed the mission, personnel, and F-47 Thunderbolt aircraft of the 149th Fighter-Bomber Squadron, a Virginia Air National Guard unit that had been called to active duty for the Korean War. However, Godman was not suitable for jet fighter operations, and in April 1953, the squadron moved to Langley Air Force Base, Virginia as the Air Force prepared to transfer Godman to the Army. After arriving at Langley, the squadron was able to upgrade to Republic F-84 Thunderjets, and later to North American F-100 Super Sabres.
The squadron became non-operational on 15 April 1958 and was inactivated with the rest of the 405th Wing in July 1958.
Vietnam War
The squadron was redesignated the 510th Tactical Fighter Squadron and activated in April 1959, when the 405th Fighter Wing replaced the 6200th Air Base Wing at Clark Air Base, Philippines. The squadron assumed the mission, personnel, and F-100 Super Sabres of the 72d Tactical Fighter Squadron, which was simultaneously inactivated.
In 1959, the squadron deployed twice to Chiayi Air Base in Taiwan and deployed a detachment to Tainan Air Base from December 1959 to November 1965, and in spring 1962, to Takhli Royal Thai Air Force Base as part of Joint Task Force 116. The squadron left Clark in March 1964 for England Air Force Base, Louisiana, where the 3d Wing was reforming as a tactical fighter unit.
The squadron was not long at England before it returned to Clark, deploying there from May through August 1965, attached to its old headquarters, the 405th Fighter Wing. It was back in Louisiana for less than four months, for, in November it moved to Bien Hoa Air Base, South Vietnam as the 3d Wing replaced the 6251st Tactical Fighter Wing there. During its time at Bien Hoa, it frequently came under attack by Viet Cong rocket and mortar attacks. The squadron supported numerous ground operations with strike missions against enemy fortifications, supply areas, lines of communication, and personnel, in addition to suppressing fire in landing areas. Along with the other F-100 squadrons at Bien Hoa, the squadron was frequently tasked with providing cover for Operation Ranch Hand missions flying from the base."
Source: Wikipedia