Listen Up! Stories of Pearl Harbor, Vietnam, the Pentagon, CNN and Beyond by Major General Perry Smith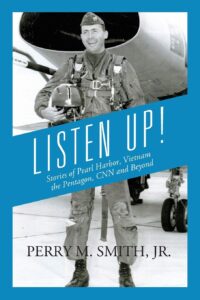 Leo's Review
Listen Up, is a memoir written by Major General Perry Smith, a member of the Super Sabre Society. He is a West Point Graduate in the class of 1956 and has had an amazing Air Force career that spanned 30 years. He was born into a military family and as a young boy was a first-hand witness to the attack on Pearl Harbor.
I was very impressed with his positive attitude that shows in his writing style. His story is split into several parts. Family life, Education, Flying fighters, Military planning, Author, Teacher, News personality, and finally outstanding civilian citizen. Trust me you will love the interesting life stories from someone that has seen and done it all. I seriously doubt if it would be possible to pack more into one lifetime.- Leo Mansuetti
Win says: He was my boss in the Pentagon and the best one I had in my life!
Amazon's Book Review reads: Listen Up! is not a traditional memoir. It is a book of stories: some powerful and some humorous. These stories are about West Point, playing lacrosse, living in Europe just after WWII, flying, combat, the Pentagon, being on camera, teaching, leading, fundraising and more.
For example, born into a military family, Perry Smith witnessed, at age six, the Japanese attack on Pearl Harbor on December 7th, 1941. He was in the back of an Army truck on the way to Sunday School on that fateful morning. Open this book and enjoy some stories from a long, eventful life.
Fore more on Major General Perry Smith go to: MAJOR GENERAL PERRY M. SMITH > Air Force > Biography Display (af.mil)
Here's the link to buy the book on Amazon: Listen Up! Stories of Pearl Harbor, Vietnam, the Pentagon, CNN and Beyond: Smith Jr, Perry M: 9781977227485: Amazon.com: Books