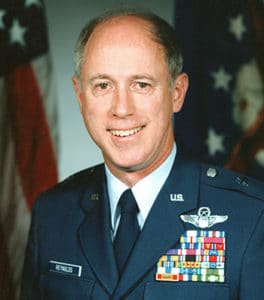 Memorial services for BGen Jon A. Reynolds will be held with full military honors on September 8, 2022, at 11:00 am in Arlington Cemetery.
All SSS members and friends of Jon are invited.
The arrangements are as follows: 10:30 am, line up at the Administration Building, Arlington Cemetery, VA. 11:00 am, the procession will begin to the transfer location. After the transfer, the caisson continues to the burial location. A fly-over will complete the ceremony.
Ron's widow, Emilee, tells us of a remarkable donation in Jon's honor. "The most satisfying news this week was the $32,000.00 donated in Jon's name for the Canine program of the Vietnam Chapter 850 in Dover, Delaware.  And a puppy in training has received the name Sabre." The Dover, DE chapter is doing this in memory of Jon and knew of the F-100s SSS.   And one more thing, they are bringing a dog or two to the September 8, 2022, Arlington burial."