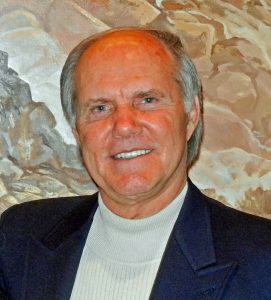 I'm currently serving on the BOD of the SSS as your Director-at-Large. The position I'm now running for and seeking your vote. I was appointed by Don Shepperd and approved by the BOD in January, 2015 after Gordie Peterson took his final flight west. I joined the SSS in 2012. I remember being at my home in Kino Bay, Mexico when my cell rang  and some guy named Dewey called to welcome me. I must have had a few cocktails because I ended our conversation by saying thanks, "if you need any help let me know". Very soon thereafter, I was asked by Hoppy to serve on the Membership Committee, a position I still hold today. I've been active in helping Hoppy and Shep to organize the Udvar-Hazy, Dayton and the recent Ft. Wayne Affairs. At Dayton in 2015 I was honored by receiving the prestigious Outstanding Member Award and recently at Ft. Wayne got to fly the "Hun"! I believe I've made a positive contribution to the Board and with your help I'll continue to do so.
I also enthusiastically support the candidacy of Eddie Bracken as the Vice President
I was born in Plainfield, New Jersey on July 17, 1942 and graduated from Bloomfield College in 1966 with a BA in Political Science and as President of my graduating class. Admittedly, my high school years were less than stellar!! I was an athlete not a scholar. I was headed nowhere until one of my high school teachers, a close friend still today, took me by the seat of the pants, kicked my butt, and told me to grow up in the Army. I did.
My military career began as a Private in the Army in 1960 where I trained in Infantry, Artillery and Airborne. After my Army active duty tour, in order to earn some additional funds for college, I joined the New Jersey Army National Guard and attended the New Jersey Military Academy where I was commissioned a 2nd Lieutenant Artillery. I remained in the Army
Guard/Reserve including two years as the X-O of an Operational Detachment with the 11th Special Forces Group Airborne, until graduating from college.
With "some help" I was able to transfer my Army Guard commission to the New Jersey Air National Guard and joined the 119th TFS in Atlantic City. They were flying the "Hun" at the time.My y aviation career and my long sought path to becoming a fighter pilot began. I attended pilot training at Willie class 68-E and F-100 Combat Crew Training at Luke. In January of 1968 while still at Willie, my unit was called to active duty and sent to Myrtle Beach to set up an RTU. After activation and while still at Luke, I volunteered for Vietnam   and was assigned to the 174th Tactical Fighter Squadron, of the IAANG based at Phu Cat AB, RVN. During my tour as a Phu Cat "Bat" I flew 122 combat sorties in the F-100-C. After Vietnam, I returned to Atlantic City where I continued to fly the "Hun" until sometime later we transitioned to the F-105 "Thud".
My airline career began in 1971 with Eastern Air Lines. I was hired at the end of a major hiring cycle. I remember Frank Borman, coming into my new hire class and declaring "you'll all be Captains in three years." Sure. After two layoffs and for the next eighteen years, I flew as a Pilot and Flight Engineer on the Boeing 727 and Airbus A-300. During those uncertain times, job security and a monthly paycheck were never assured so in 1977, I was the founding Vice President of Vintage Selections, Ltd. The first "wine only" wholesale distributor in Arizona that was responsible for bringing to Arizona some of the finest varietal wineries of Napa Valley. I quit Eastern in 1987, after the "moon man'" sold us out to corporate raider Frank Lorenzo and three years before the strike and the eventual bankruptcy.
After leaving Eastern, I started Lone Eagle Aviation, Inc. Lone Eagle served as the base of operations for a successful Airline Transport Pilot and Flight Engineer FAA Written Test Prep program. I authored several ATP and FE study guides. Lone Eagle also offered an ATP Flight Certification Program with over 6000 graduates mostly military pilots; a Part 135 Air Charter Company; Eagle Rescue, an Air Ambulance Company serving the Phoenix Metro area and a Part 142 training company offering type ratings in the B-737 and A-320 aircraft.
For 42 years I lived in a bedroom community of Scottsdale, the town of Carefree. I served as both an Officer and Board Member of the Carefree Kiwanis Club; President of Our Lady of Joy parish council; School Board Member; Republican Party Precinct committeeman and I've served on countless Maricopa County, Arizona advisory boards.
After several very serious family tragedies in 2006 and 2007 I've regained my life by meeting a great woman, my partner Carol Conway. Many of you have met her at the various SSS events of the past several years. We now live in the heart of Scottsdale and are looking forward to sharing together the many years ahead.
I sincerely want to continue serving on the board of the Super Sabre Society. I strongly believe in our mission-to preserve the history of the F-100 Super Sabre and those who flew it- a worthy goal indeed. We were all part of an important era, the introduction of supersonic, swept-wing flight. We are a part of aviation history. I want future generations to know who we were and what we did, AND more important, I want to honor those that have gone west, those who taught us, and are no longer able to respond to our wing rock. I don't want our legacy to vanish. Some exciting things are on the horizon. I will help in every way I can to increase membership and perpetuate camaraderie in the time we have left- I am honored to have served- I want to continue- I appreciate your vote!
~ Dick Pietro