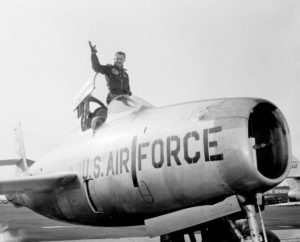 Lieutenant Colonel Robert Ray Scott, United States Air Force, commanding officer, 510th Fighter Bomber Squadron, 405th Fighter Bomber Wing, Langley Air Force Base, Virginia, with Major Robert C. Ruby and Captain Charles T. Hudson, flew their Republic F-84F Thunderstreaks non-stop from Los Angeles Airport (LAX), on the southern California coastline, to overhead Floyd Bennett Field, New York. Two in-flight refuelings from Boeing KB-29 tankers were required.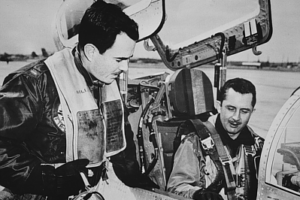 Colonel Scott's flight set a new National Aeronautic Association speed record with an elapsed time of 3 hours, 44 minutes, 53.88 seconds.
Also on this day:
March 9, 1970
Capt C.F. Clay flying F-100 #552890 with callsign "Yellow Jacket" ejects over South Vietnam after being hit with heavy gunfire.  He is recovered uninjured. He was flying out of Phu Cat with the 352 TFS/35 TFW.
On this same day, Capt. Richard John Cowell was flying F-100D #563384 with the 615TFS/35 TFW out of Phan Rang. He flew with callsign Bobcat 7. His aircraft was hit with Anti Aircraft Artillery. Capt. Cowell was recovered but died of his injuries.
He had enlisted in the Air Force. Richard entered service via Reserve Military and began his tour on September 11, 1969. He had the rank of Captain. Occupation or specialty was Pilot.  Richard John Cowell is buried or memorialized at Long Island National Cemetery, East Farmingdale, Suffolk County, New York.