"The Century Series is a popular name for a group of US fighter aircraft representing models designated between F-100 and F-106 which went into full production. They included the first successful supersonic aircraft designs in the United States Air Force's service, which remained in active service well into the 1970s and 1980s with the Air Force Reserve and Air National Guard. Three later variants, the QF-100, QF-102 and QF-106, also continued in service, primarily as aerial target drones, until the late 1990s.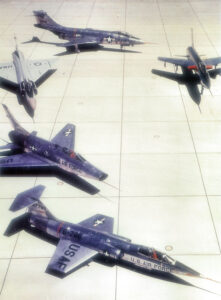 The name "Century Series" stems from the fighter (F-) designation number being in the 100–109 range. The term became popular to refer to a group of generally similar designs of the 1950s and early 1960s.
As it evolved, the attribution of the Century Series moniker reflects models designated between F-100 and F-106 which went into full production:
North American F-100 Super Sabre
McDonnell F-101 Voodoo
Convair F-102 Delta Dagger
Lockheed F-104 Starfighter
Republic F-105 Thunderchief
Convair F-106 Delta Dart
The term "Century Fighters" does not include less successful models between the F-100 and F-109 that did not go past design or prototype stage: the Republic XF-103 Thunderwarrior and North American XF-108 Rapier interceptor concepts, the North American F-107 tactical fighter prototype (cancelled in favor of the F-105), and designation "F-109" which was originally assigned to the F-101B Voodoo and later requested but not granted for the Bell XF-109 VTOL concept."(1) (In this series, we'll talk about those too!)
In an article by Sebastien Roblin for The National Interest online magazine titled "The U.S. Air Force Wants a New 'Century Series' of Jet Fighters—But Should They? The fighters seemed amazing at the time, but history has rendered its own judgment."
Roblin says "Most of the Century Series failed to provide the lasting value of contemporaries such as the A-4 Skyhawk, B-52 bomber and F-4 Phantom." (Note-He said it, not me!)
Roblin also mentions that "in September 2019, the Air Force Assistant Secretary for technology acquisitions Will Roper called for a new "Century of Series" of jet fighters." (2)
Defense News reports that Roper is looking for "a radical plan that could field a jet in 5 years in "it's next-generation fighter program, known as Next Generation Air Dominance, or NGAD."
The Century Series approach would be a notable departure from the Air Force's former thinking on its future fighter. In its "Air Superiority 2030" study released in 2016, the Air Force described a long-range, stealthy sensor-shooter called "Penetrating Counter Air," which would act as NGAD's central node networked with sensors, drones and other platforms. The Air Force would use prototyping to speed along key technologies in the hope of maturing them early enough for inclusion in advanced aircraft fielded in the early 2030s.
The Air Force's goal would be to quickly build the best fighter that industry can muster over a couple years, integrating whatever emerging technology exists. The service would downselect, put a small number of aircraft under contract, and then restart another round of competition among fighter manufacturers, which would revise their fighter designs and explore newer leaps in technology.
The result would be a networked family of fighters — some more interrelated than others — developed to meet specific requirements and including best-in-breed technologies aboard a single airframe. One jet might be optimized around a revolutionary capability, like an airborne laser. Another fighter might prioritize state-of-the-art sensors and include artificial intelligence. One might be an unmanned weapons truck." (3)
For the full articles, see the sources linked below.
Source: (1) Wikipedia (2)TheNationalInterest.com; (3) DefenseNews;