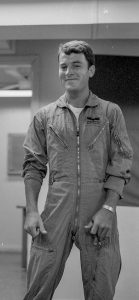 Captain James M. "Don Juan" Brinkman, III was killed in action on April 1, 1968. Flying as "Buzzard O", he was assigned with the 510th TFS out of Bien Hoa. During a close air support mission 40 miles northwest of Saigon, Capt Brinkman was attacking enemy vehicles seven miles north of Dau Tieng and was delivering his second load of napalm when the aircraft was hit by the blast from the explosion of its own ordnance. The Super Sabre crashed immediately giving Capt Brinkman no chance to eject.
James Brinkman was born on December 26, 1940, in Memphis, TN. He entered the aviation cadets in 1959. In his cadet yearbook, it was noted "His biting humor and personality soon became famous from CWC to Sweden.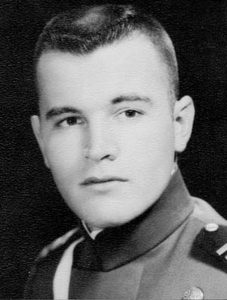 It was only a short time until it was recognized that Jim possessed a great deal of potential both military and social [acumen]. In the social aspects of life, it could be said that at times, Don Juan would appear as bashful as a schoolboy… His ambition and drive have brought him to a high degree of success as a career in the Air Force." (1)
Jim was recovered by the USAF and is buried in the United States Air Force Cemetery in Colorado Springs, CO.
For more about Jim Brinkman go to https://supersabresociety.com/biography/brinkman-james-m-iii-k-i-a/
(1) Source: USAFA cadet yearbook