Labeled as "the biggest single action over Vietnam War", on this date B-52 bombers hit Vinh the second largest port city. Eight B-52's each capable of carrying 3500 tons of bombs raided the town.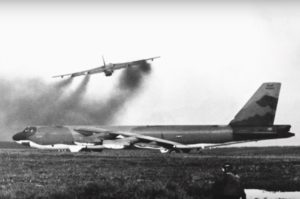 The raid was purported to be President Nixon's way of showing that the U.S. still had power in Vietnam. It was the farthest North that the bombers had ever been during the war and the first raid by the aircraft in 4 years.
The B-52 bomber could not fly out of range of ground-to-air missiles making this attack a risky situation. Fortunately, none of the bombers were damaged.
At the same time, Quảng Trị and Saigon were seeing increased activity after several days of quiet. On April 8, Lộc Ninh had been overrun and about half of the military forces escaped to An Lộc. The ARVN defense in An Lộch had little artillery and was heavily reliant on U.S. air support.
Source: KABC-TV7, Wikipedia