15 April 1959 – Captain George Allie Edwards, Jr., United States Air Force, assigned to the 432nd Tactical Reconnaissance Wing, Shaw Air Force Base, South Carolina, set a Fédération Aéronautique Internationale (FAI) World Record for Speed Over a Closed Circuit of 500 Kilometers (310.686 miles) Without Payload at Edwards Air Force Base, California. Captain Edwards flew a McDonnell RF-101C-60-MC Voodoo, serial number 56-054. His speed over the course averaged 1,313.677 kilometers per hour (816.281 miles per hour).¹
Captain Edwards told The Nashville Tennessean, "The flight was routine. The plane ran like a scalded dog." Nine days earlier, Colonel Edward H. Taylor flew another McDonnell RF-101C to a World Record for Speed Over a 1000 Kilometer Course of 1,126.62 kilometers per hour (700.05 miles per hour).²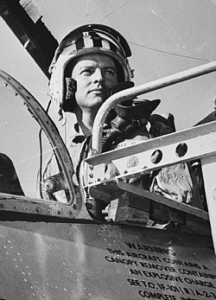 In 1951, during the Korean War, Edwards entered the United States Air Force as an aviation cadet. He graduated from flight school at Vance Air Force Base, Oklahoma, and was commissioned a second lieutenant. He was assigned to the 67th Tactical Reconnaissance Wing at Kimpo Air Base, South Korea. As a pilot of North American RF-51D Mustang and Lockheed RF-80 Shooting Star photographic reconnaissance airplanes, he flew 101 combat missions.
His next assignment was as a jet instructor at Bryan Air Force Base, Texas, and then an F-100 pilot with the 354th Tactical Fighter Wing. He next served as chief of safety and standardization for the 432nd Tactical Reconnaissance Wing. It was during this assignment that he set the world record.
From 1959 to 1962, Edwards was an advisor to the West German Air Force. In recognition of his service, the chief of staff awarded him Luftwaffe pilot's wings. For the next several years, he rotated through a series of training assignments, education, and staff assignments.
During the Vietnam War, Lieutenant Colonel Edwards commanded the 19th Tactical Reconnaissance Squadron which was equipped with the McDonnell RF-4C Phantom II reconnaissance variant. He also commanded a detachment of the 460th Tactical Reconnaissance Wing and flew the Martin RB-57 Canberra. Edwards flew another 213 combat missions.
Colonel Edwards went on to command the 67th Tactical Reconnaissance Wing, (which he had previously served with during the Korean War), Bergstrom Air Force Base, Texas; as a brigadier general, was vice commander of 12th Air Force; commander 314th Air Division, Osan Air Base, Republic of Korea, and also commanded the Korean Air Defense Sector. Edwards was promoted to Major General 1 August 1976, with an effective date of rank of 1 July 1973.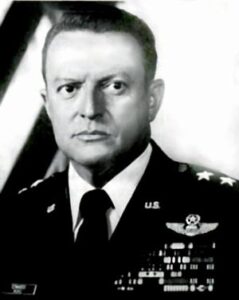 During his career in the United States Air Force, Major General George A. Edwards, Jr., was awarded the Distinguished Service Medal, Legion of Merit, Distinguished Flying Cross with four oak leaf clusters (5 awards), the Bronze Star, Air Medal with 19 oak leaf clusters (20 awards), Joint Service Commendation Medal, Air Force Commendation Medal, Presidential Unit Citation Emblem, Air Force Outstanding Unit Award ribbon with four oak leaf clusters (5 awards).
Major General Edwards retired from the Air Force on 1 March 1984 after 33 years of service. As of 2015, the General and Mrs. Edwards live near Austin, Texas.