2 April 1997 – Capt Craig D. Button, a United States Air Force pilot, died when he mysteriously crashed a Fairchild-Republic A-10 Thunderbolt II aircraft in the Colorado Rockies.
"Button's father, Richard Button, was a retired Air Force lieutenant colonel who flew for the Air Force during World War II, Korea, and Vietnam.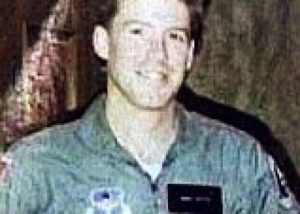 [Craig] Button was commissioned through the AFROTC program at the New York Institute of Technology in Old Westbury, New York, where he received a degree in aerospace engineering in 1990. He spent four years at the Laughlin Air Force Base in Texas as a Cessna T-37 Tweet first assignment instructor pilot before being transferred to the 355th Fighter Wing, a Fairchild A-10 Thunderbolt II unit at Davis–Monthan Air Force Base in Tuscon, Arizona. He had been an Air Force pilot for five years before the crash.
Captain Button took off in his single-seat A-10 attack aircraft on a training mission with two other A-10s from Davis-Monthan Air Force Base. His jet was armed with four Mark 82 bombs, sixty magnesium flares, 120 metal chaff canisters, and its GAU-8 Avenger gun was loaded with 575 rounds of 30-millimeter ammunition. This training mission would have been the first time Captain Button dropped live ordnance.
Near Gila Bend, Arizona, after being refueled in-flight, Button unexpectedly broke formation" (1)
"Button loved skiing so much that the Air Force officially reprimanded him for often going out of his way to fly over the Rocky Mountains. Button flew over New York Lake at 300 miles per hour, passed within two miles of Craig Mountain. and crashed into Gold Dust Peak, just below the 13,365-foot summit in the Holy Cross Wilderness.
Before doing so, Button climbed from an altitude of 6,000 feet and threaded his way through the peaks. That was well after he refueled in the air. Button's remains that were recovered were so small that investigators could not test for anything such as carbon monoxide poisoning. However, they did determine that drugs or alcohol were not involved." (2)
"He flew in a northeasterly direction towards the Four Corners area of Arizona, Colorado, New Mexico, and Utah. His jet was spotted numerous times by observers on the ground. One observer, an off-duty pilot, said the jet appeared to maneuver around bad weather. This observation suggested to the United States Air Force that the aircraft was being flown manually and purposefully. Button's flight was tracked by radar in Phoenix, Albuquerque, and Denver, but because the transponder in the aircraft was not operating (presumably turned off) it was only tracked, not identified. It was only after analyzing radar data later that investigators were able to track Button's flight.
Button's aircraft zig-zagged near the end of its flight. It was last spotted in the air about 100 miles (160 km) west of Denver. The jet impacted terrain about 15 miles (24 km) SW of Vail, Colorado, on Gold Dust Peak in a remote part of Eagle County. The Air Force concluded the jet probably had two to five minutes of fuel remaining when it crashed. The impact occurred at about 13,200 feet (4,000 m) of elevation, just 100 feet (30 m) below the summit. The debris field was over a quarter-mile-square area. Pieces of the canopy and cockpit went over a ridge.
The search for the crash site was conducted by the Air Force, the Colorado Army National Guard, and the Civil Air Patrol. A Lockheed U-2 reconnaissance aircraft from Beale Air Force Base in California overflew the area and identified five possible sites. Twenty days after Button's aircraft disappeared, the crew of a National Guard helicopter spotted metal fragments in the snow on Gold Dust Peak. Steep terrain, bad weather, high winds, deep snow, rock slides, and avalanches hampered access to the site.  It was several more days before the wreckage was confirmed to be Captain Button's missing A-10. It took another four months to recover human remains.
Status of the bombs
Explosive Ordnance Disposal personnel searched alpine ponds for any remnants of the four 500-pound Mark 82 bombs in August of 1997. The four 500-pound (227 kg) Mk 82 bombs have not been found despite an exhaustive search involving metal detectors and ground-penetrating radar. The bombs were designed to survive a crash and the Air Force expected to find them at the site. Furthermore, the aircraft's bomb racks were recovered in the wreckage, and they indicated that the bombs had not been released. Yet, more than four dozen witnesses reported hearing loud explosions in northern Arizona and near Telluride and Aspen, Colorado. However, no evidence was found to support the idea that Button released the weapons where the explosions were heard. The Mk 82 bomb can throw fragments more than a mile, and the crash site was less than 4000 feet from a deep alpine lake." (1)
"In 1998 an Air Force report suggested unrequited love and conflicting emotions between learning to kill as a member of the military being juxtaposed with his mother's Jehovah's Witness and pacifist philosophy. His parents angrily rejected that conjecture and lambasted the media for suggesting their son may have sabotaged the flight." (2) His father believes that "There must have been some kind of air contamination," Mr. Button said, suggesting that his son had been stricken by fumes from the jet fuel. "We think he was disoriented, that he wasn't able to control his airplane for a period of time. We think that caused the accident."(3)
The story of Craig Button was the inspiration for the story of an Air Force pilot in the West Wing episode "Noël".
To watch a simulation of Capt Button's crash, click here to  see "Gone Rogue" by Allec Joshua Ibay
Sources (1) Wikipedia, (2) The curious case of Capt. Craig Button. 20 years ago, Button crashed his A-10 into Gold Dust Peak. Two decades later, no one knows why. Regional REGIONAL | April 15, 2017 by Randy Wyrick  rwyrick@vaildaily.com, (3) NY Times article 1998