The Long Biên Bridge was built in 1899-1902 by the architects Daydé & Pillé of Paris, and opened in 1903.[1] Before North Vietnam's independence in 1954, it was called Paul-Doumer Bridge, named after Paul Doumer – The Governor-General of French Indochina and then French president.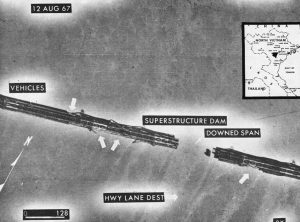 On August 11, 1967,  the center span of the bridge was felled by an attack by 20 USAF F-105 fighter-bombers.[2] Colonel Robert M. White, United States Air Force, led the mission and was awarded the Air Force Cross for extraordinary heroism in military operations against an opposing armed force as an F-105 Mission Commander and Pilot of the 355th Tactical Fighter Wing, Takhli Royal Thai Air Base, Thailand, in action near Hanoi, North Vietnam, on 11 August 1967. On that date, Colonel White led the entire combat force against a key railroad and highway bridge in the vicinity of Hanoi. In spite of 14 surface-to-air missile launches, MiG interceptor attacks, and intense anti-aircraft artillery fire, he gallantly led the attack. By being the first aircraft to dive through the dark clouds of bursting flak, Colonel White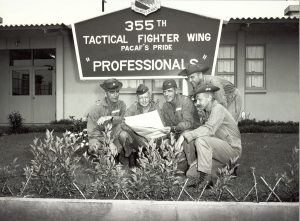 set an example that inspired the remaining attacking force to destroy the bridge without a single aircraft being lost to the hostile gunners. Through his extraordinary heroism, superb airmanship, and aggressiveness in the face of hostile forces, Colonel White reflected the highest credit upon himself and the United States Air Force.
Sources: Wikipedia, This Day in Aviation by Bryan R. Swopes