12 August 1946 – President Harry Truman signs a bill authorizing an appropriation of $50,000 to establish a National Air Museum in the Smithsonian Institution in Washington, D. C. The small museum eventually becomes the National Air and Space Museum – The most visited museum in the world. (1)
"The Air and Space Museum was originally called the National Air Museum when formed on August 12, 1946, by an act of Congress and signed into law by President Harry S. Truman. Some pieces in the National Air and Space Museum collection date back to the 1876 Centennial Exposition in Philadelphia after which the Chinese Imperial Commission donated a group of kites to the Smithsonian after Smithsonian Secretary Spencer Fullerton Baird convinced exhibitors that shipping them home would be too costly. The Stringfellow steam engine intended for aircraft was added to the collection in 1989, the first piece actively acquired by the Smithsonian now in the current NASM collection.
After the establishment of the museum, there was no single building that could hold all the items to be displayed, many obtained from the United States Army and United States Navy collections of domestic and captured aircraft from World War I. Some pieces were on display in the Arts and Industries Building, some were stored in the Aircraft Building (also known as the "Tin Shed"), a large temporary metal shed in the Smithsonian Castle's south yard. Larger missiles and rockets were displayed outdoors in what was known as Rocket Row. The shed housed a large Martin bomber, a LePere fighter-bomber, and an Aeromarine 39B floatplane. Still, much of the collection remained in storage due to a lack of display space.
The combination of the large numbers of aircraft donated to the Smithsonian after World War II and the need for hangar and factory space for the Korean War drove the Smithsonian to look for its own facility to store and restore aircraft. The current Garber Facility was ceded to the Smithsonian by the Maryland-National Capital Park and Planning Commission in 1952 after the curator Paul E. Garber spotted the wooded area from the air. Bulldozers from Fort Belvoir and prefabricated buildings from the United States Navy kept the initial costs low.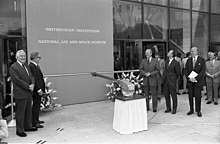 The museum's prominent site on the National Mall once housed the city's armory, which became Armory Square Hospital during the Civil War; it nursed the worst wounded cases who were transported to Washington after battles. The rest of the site was occupied by a cluster of temporary war buildings that existed from World War I until the 1960s.
The space race in the 1950s and 1960s led to the renaming of the museum to the National Air and Space Museum, and finally congressional passage of appropriations for the construction of the new exhibition hall,[8] which opened July 1, 1976, at the height of the United States Bicentennial festivities under the leadership of Director Michael Collins, who had flown to the Moon on Apollo 11."(2)
Sources: (1) Wikipedia/Portal: Aviation Anniversaries; (2) Wikipedia