21 August 1954 – Col. Einar Axel Malmstrom, vice wing commander at Great Falls Air Force Base, Montana, was killed in the crash of a Lockheed T-33 Shooting Star trainer, 52-9630, near the base. Local citizens then urged the renaming of the facility in his honor. The base was renamed on 15 June 1956. (1)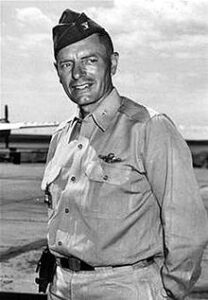 Malmstrom "(July 14, 1907 – August 21, 1954) was a Colonel in the United States Air Force. He was a P-47 Thunderbolt fighter pilot and commanding officer of the 356th Fighter Group of the 8th Air Force during World War II. He was shot down in 1944 and was a prisoner of war in Stalag Luft I from April 1944 through May 1945.
Malmstrom returned to the U.S. in May 1945 and was assigned as Air Inspector for the 312th Base Unit in Barksdale, Louisiana, the XIX Tactical Air Command at Biggs Field, Texas, and at Greenville, South Carolina.
He was Deputy for Reserve Forces for the 9th Air Force until August 1949 when he entered the Air War College. He was then a senior Air Force instructor at the Army War College. He was Director of Personnel at Lockbourne Air Force Base.
In February 1954 he was assigned to Great Falls Air Force Base in Montana, as Deputy Wing Commander of the 407th Strategic Fighter Wing. (2)
Sources: (1) Wikipedia/Portal:Aviation; (2) Wikipedia