28 August 1952 – "An F-6F Hellcat is loaded with explosives and flown as a remote-controlled drone against a railway bridge at Hungnam, North Korea."(1)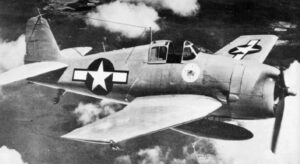 The F-6F made its combat debut in September 1943 and was best known for its role as a rugged, well-designed carrier fighter, which was able to outperform the A6M Zero and help secure air superiority over the Pacific theater. In total, 12,275 were built in just over two years.
Hellcats were credited with destroying a total of 5,223 enemy aircraft while in service with the U.S. Navy, U.S. Marine Corps, and Royal Navy Fleet Air Arm.
This was more than any other Allied naval aircraft. After the war, Hellcats were phased out of front-line service in the US, but radar-equipped F6F-5Ns remained in service as late as 1954 as night fighters."(2)
Source: (1) Wikipedia Portal Aviation and (2) Wikipedia