30 August 1982: Northrop test pilot Russell J. Scott made the first flight of the F-5G Tigershark prototype, N4416T, (Northrop serial number GG.1001) at Edwards Air Force Base, California. During the 40 minute flight the Tigershark, which would be re-designated F-20A two months later, reached an altitude of 40,000 feet and speed of Mach 1.04.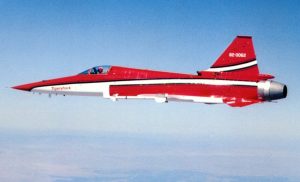 (Russ Scott, a former U.S. Air Force pilot, had been one of 11 pilots selected in 1961 to fly the Central Intelligence Agency's ultrasecret Lockheed A-12 "Oxcart" Mach 3+ reconnaissance aircraft, though he left the program before the A-12 became operational.)
The F-5G was developed by Northrop at the request of the Department of State. U.S. policy at the time prevented the export of front line fighters, like the Grumman F-14 Tomcat and McDonnell Douglas F-15 Eagle, to Allied nations outside of NATO, with the exception of Australia, Israel, Egypt and Iran. Since the Republic of China was building the F-5E under license for its air force, the State Department had asked Northrop to design an advanced fighter based on that earlier type that could be produced in Taiwan.
Source: ThisDayinAviation by Bryan R. Swopes, c.2018