14 February 1951 – Major Raymond S. Wetmore, World War II ace with 21.25 kills, and commander of the 59th Fighter-Interceptor Squadron at Otis Air Force Base, Massachusetts, was killed this date in the crash of North American F-86A-5-NA Sabre, 48-0149, c/n 151-43517 at age 27.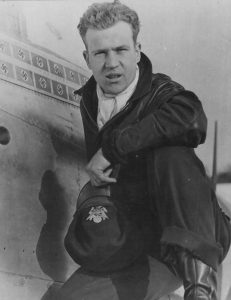 After a cross-country flight from Los Angeles, California, to Otis AFB, he was on his final approach when his plane suddenly shot up skyward and then turned towards the ground where it crashed. Raymond was killed instantly. He was reported to have said that he had trouble steering and ejecting from the plane. He was also reported to have said to the tower, "I'm going to go up and bring it down in Wakeby Lake, so I don't hit any houses." When he died, he left a widow and four children.
"Clarence Van Buskirk, a South Sandwich native, knows what happened that night. He was a 15-year-old boy, on the ground, when the F-86 Sabre took a turn skyward and then inexplicably plummeted to the ground in a rapid descent that pierced the winter silence.
"All of a sudden I heard this roar — roar!" Van Buskirk, now 74, recalls. It wasn't unusual to hear jets roaring in the nighttime sky. Otis was a training base during World War II and had become an Air Force field in the '50s. This was different. "I could hear the scream of the jet as it came down." "Then the whole sky lit up."
Van Buskirk and his father rushed to the scene in their 1948 Plymouth sedan. From a cranberry bog on the way, they could see the fiery glow. They rushed toward Harlow Road, a dirt path so narrow it was difficult for two cars to pass in opposite directions.
"The crash plowed a crater about 12 feet deep and 20 feet wide in the woodlands about 150 feet from Harlow Road in South Sandwich," the Cape Cod Standard-Times reported.
"One of the engines was still hot and in the road," Van Buskirk says. (2)
Source: Wikipedia/Portal:Aviation, (2) Cape Cod Times by George Brennan, published Nov. 1, 2009 Mystery of ace pilot's crash unraveled